First Snake Pit U.S.A. Seminar at Average Joe's new location is a hit on Super Bowl Sunday!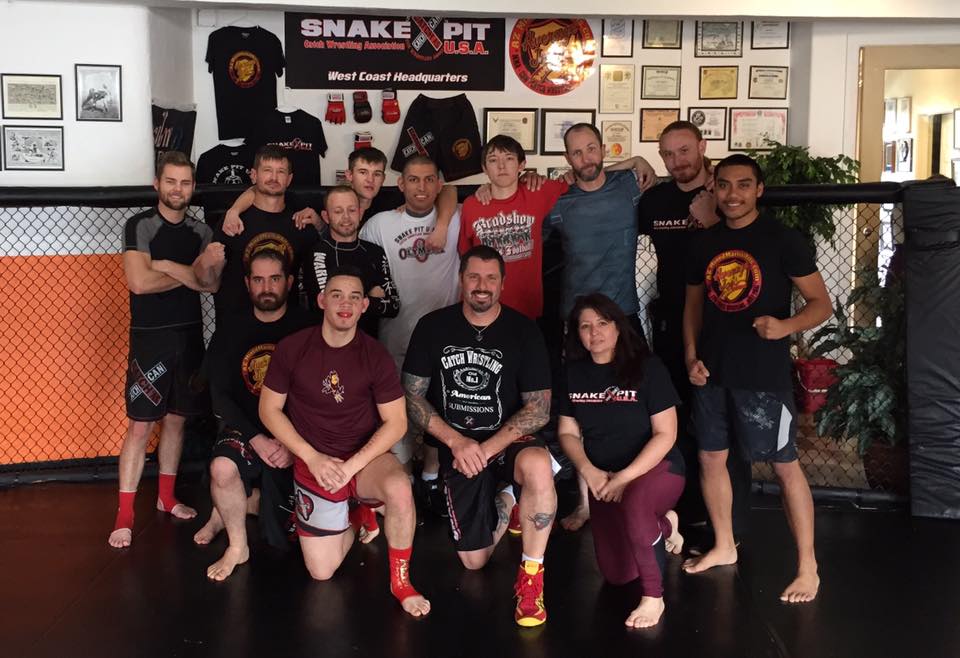 Coach John Potenza does it again! Everyone said having this seminar on Super Bowl Sunday would be a bust and he proved them wrong! Not only that, but he did it while hosting and conducting the VERY FIRST Snake Pit USA seminar at his gym's (Average Joe's MMA) new location! For those who may not already be aware, Average Joe's MMA is THE West Coast Headquarters for The Mighty Snake Pit USA Catch Wrestling Organization.
From Coach Potenza "Thank you to everyone who came out on Super Bowl Sunday, today was a blast!! Congrats to our new Journeyman Level 2 skill level promotees, Miles Ritter & Sol Black. Outstanding job today on your evaluations!
Average Joe's is located in Prescott, Arizona and classes are taught there daily by Coach Potenza himself. If you live in the Prescott, Arizona area and haven't done so yet, be sure to check out this Real No-Gi Submission Wrestling powerhouse for the very best in Combat Sports and Self Defense!
Average Joe's MMA
546 6th Street
Prescott, Arizona 86301
www.AverageJoesMMA.com emailus@AverageJoesMMA.com
(908) 692-8131
Social tagging:
Arizona BJJ
>
Arizona Jiujitsu
>
arizona juijitsu
>
arizona no gi
>
arizona submission wrestling
>
average joes mma no gi
>
averagre joes mma
>
billyrobinson
>
billyrobinsoncatchwrestling
>
bjj
>
bjjgirls
>
BJJlife
>
bjjlifestyle
>
bjjtechniques
>
boxing
>
brazilianjiujitsu
>
catchwrestling
>
CatchWrestlingschools
>
catchwrestlingtechniques
>
fight
>
fighter
>
fightinking
>
fitness
>
FloydWinter
>
goals
>
grapplingtechniques
>
guard
>
Jiujitsu
>
jiujitsugirls
>
jiujitsulifestyle
>
joelbane
>
johnpotenza
>
Judo
>
juijitsutechniques
>
jujitsu
>
jujitsutechniques
>
k1
>
karate
>
kickboxing
>
lucha
>
martialarts
>
mixedmartialarts
>
mma
>
motivation
>
muaythai
>
noexcuses
>
nogi
>
nogibjjj
>
nopainnogain
>
passingguard
>
sacrifice
>
snakepitusa
>
strength
>
submissionwrestling
>
taekwondo
>
topfighters
>
UFC
>
ufc208
>
ufc209
>
workout
>
wrestlingtechniques