THE SPRING 2018 SNAKE PIT U.S.A. COACHES CAMP!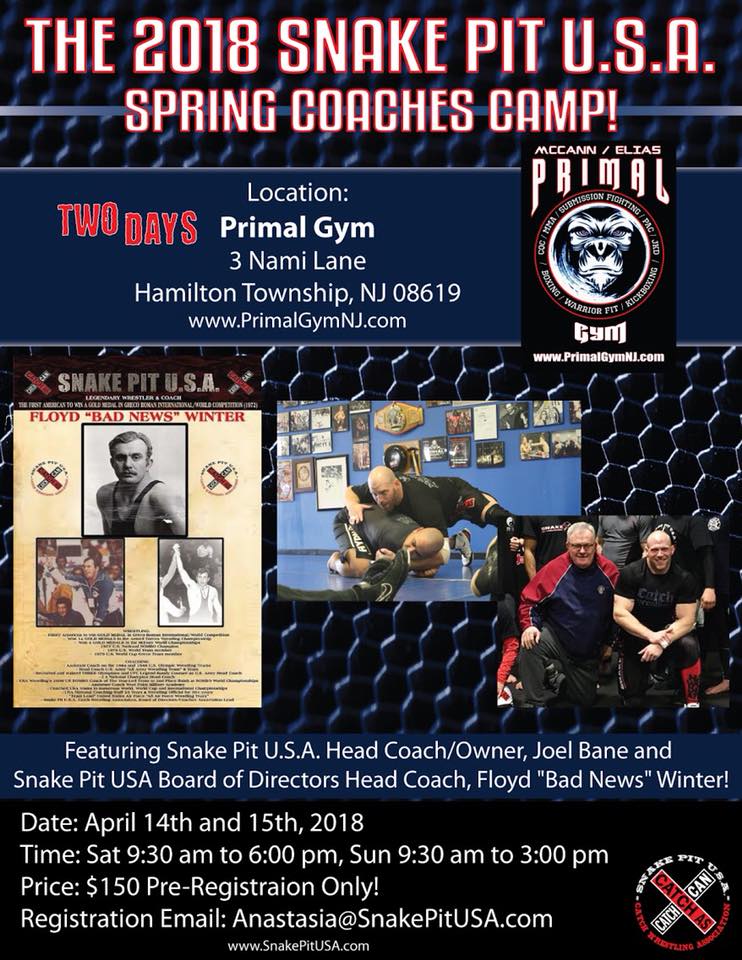 This camp is exclusive to Snake Pit USA Affiliate/Representative Coaches and Silver Members with hopes of one day Coaching. Upon that, it is Invite only.
Not a member? Join Team Snake Pit USA Today as a SILVER MEMBER and download FULL LENGTH DVDs such as "The Front Headlock" and "Wicked Transitions, Catch Wrestling Fundamentals" for FREE!!!! A $100 value!
Silver members also have access to over 120+ Real No-Gi Submission Wrestling HD technique videos, receive a Snake Pit USA member's T-Shirt, Certificate of Membership and a bumper decal at NO ADDITIONAL COST!
NOBODY OFFERS ANYTHING CLOSE!
What are you waiting for? Join Team Snake Pit USA and become a part of "The World's Premier Catch Wrestling Organization" at:
http://snakepitusa.com/shop/join-snake-pit-u-s-a
Social tagging:
AdidasWrestling
>
AsicsWrestling
>
bjj
>
BJJDVDS
>
bjjgirls
>
BJJlife
>
bjjlifestyle
>
bjjtechniques
>
boxing
>
brazilianjiujitsu
>
CarlosCatania
>
CarlosCataniaBJJ
>
catchwrestling
>
CatchWrestlingDVDs
>
CatchWrestlingschools
>
catchwrestlingtechniques
>
checkmat
>
checkmatbjj
>
ckeckmatgirls
>
DanBocelli
>
fight
>
fighter
>
fightinking
>
fitness
>
FloydWinter
>
G13
>
GhiEburneo
>
GiovannaEburneo
>
goals
>
Gracie Jiu-Jitsu
>
grapplingtechniques
>
guard
>
JakeShannon
>
Jiu-jitsu
>
Jiujitsu
>
jiujitsugirls
>
jiujitsulifestyle
>
joelbane
>
Judo
>
juijitsu
>
juijitsutechniques
>
k1
>
karate
>
kickboxing
>
kidsbjj
>
kidscatch
>
kidswrestling
>
lutalivre
>
Machado
>
MachadoBJJ
>
martialarts
>
mixedmartialarts
>
mma
>
MMADVDs
>
motivation
>
muaythai
>
no-gi
>
noexcuses
>
nogi
>
nopainnogain
>
passingguard
>
Pat Stano
>
RandyCouture
>
razorsedgemma
>
sacrifice
>
SeanDaugherty
>
SnakePit
>
snakepitusa
>
SnakePitUSAHeadquarters
>
submissionwrestling juijitsutechniques
>
submissionwrestlingtechniques
>
taekwondo
>
topfighters
>
UFC
>
ultimate fighter
>
USAWrestling
>
workout
>
Wrestling Camps
>
Wrestlingcamp
>
wrestlingcamps
>
WrestlingDVDs
>
wrestlingtechniques
>
XtremeCoutureMMA
>
youthwrestling