FALL 2017 AFFILIATE SPECIAL CLOSING OUT SOON! ACT NOW!
TIME IS RUNNING OUT!
FALL 2017 SNAKE PIT U.S.A. AFFILIATE SCHOOL SPECIAL ENDS 3 November 2017! NO EXCEPTIONS!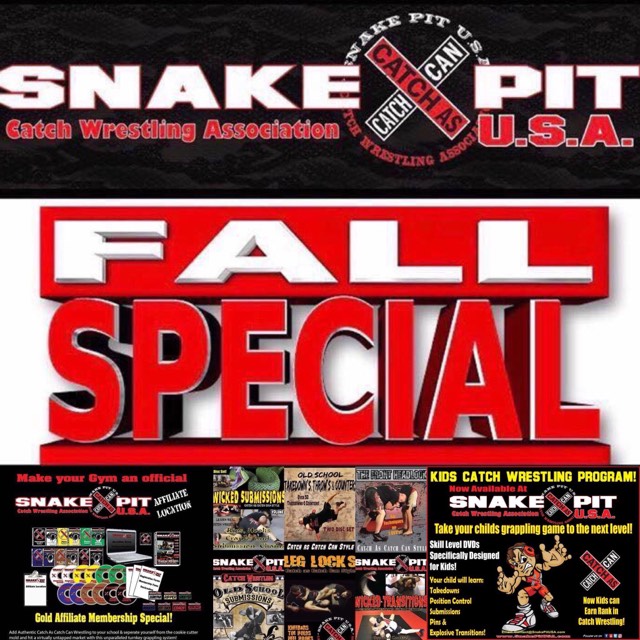 THE ONLY WAY TO RECEIVE THE "KIDS CATCH" DVD SERIES! Available ONLY to Snake Pit USA Affiliate schools & Representative Coaches!
That's right we are temporarily offering a VERY SPECIAL, VERY affordable, National and International Affiliation rate RIGHT NOW!
INTERESTED IN BRINGING REAL NO-GI SUBMISSION WRESTLING, CATCH AS CATCH CAN STYLE TO YOUR GYM?
NOW'S YOUR CHANCE TO BECOME A SNAKE PIT U.S.A. CATCH WRESTLING REPRESENTATIVE COACH & AFFILIATE SCHOOL WITH THIS ONCE IN A LIFETIME SPECIAL OFFER!
Become a Certified Catch Wrestling Coach and instruct Real No-Gi Submission Wrestling, Catch as Catch Can style with a proven curriculum in the lineage of the great Billy Robinson at your facility with "The World's Premier Catch Wrestling Organization!"
INTERESTED? What are you waiting for? Join the hottest and fastest growing REAL No-Gi Submission Wrestling Organization in the World TODAY by simply emailing us at: Contact@SnakePitUSA.com