As a member of Team Snake Pit U.S.A., you will have access to the best Catch Wrestling techniques available 24/7. With online special technique, and student and coach level videos waiting for you in our member's area, you will be able to study and review whenever your personal schedule allows.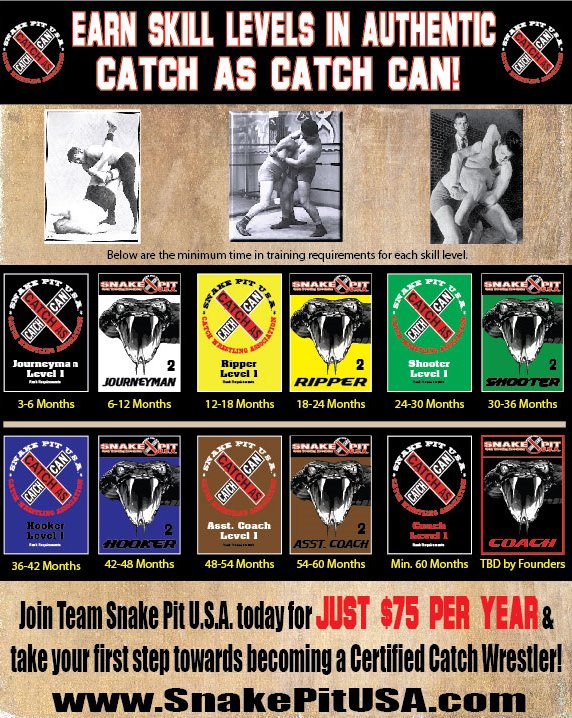 At Snake Pit U.S.A. we use a fair promotion system focusing on, and stressing strong fundamentals and precision technique. As you progress through the skill levels; Journeyman, Ripper, Shooter, Hooker and Assistant Coach you will have the opportunity to become a Catch as Catch Can Certified Coach and even start your own Snake Pit U.S.A. affiliate gym.
Catch Wrestling Certification/Skill Levels:
– Journeyman levels 1 & 2
– Ripper levels 1 & 2
– Shooter levels 1 & 2
– Hooker levels 1 & 2
– Assistant Coach levels 1 & 2
– Coach
GYMS/CLUBS Disclaimer: Gyms or Clubs cannot join through Bronze or Silver membership plans. Those memberships are designed for INDIVIDUALS ONLY. GOLD/AFFILIATE MEMBERSHIP IS THE ONLY PERMITTED OPTION FOR GYM OR CLUB MEMBERSHIP.
Please allow 2-4 weeks for delivery of Shirt, Certificate and Decal etc. 

You must provide your shirt size on our "T-Shirt Size Form" located under the "Membership" drop down menu for us to ship your membership packages. 
————————————————————————————————–
Bronze Membership
$50.00 Annual
Personalized Snake Pit U.S.A. Membership Certificate
Snake Pit U.S.A. Members/Banner T-Shirt
Snake Pit U.S.A. official logo sticker
 ————————————————————————————————–
Silver Membership
$75.00 Annual
Full access to our "Members area" with an ever expanding library of High Definition members Videos: Over 120 HD videos!
Personalized Snake Pit U.S.A. Membership Certificate
Opportunity to Earn Skill Level Certification
Snake Pit U.S.A. Members/Banner T-Shirt
Snake Pit U.S.A. official logo/bumper sticker
Admission to the "Team Snake Pit U.S.A. official members Facebook page"
10% off All Merchandise in "Members Shop" including seminar registration
FREE SPECIALTY DVD's NOW AVAILABLE FOR FREE DOWNLOAD in the Member's section! $100+Value!
————————————————————————————————–
Gold Membership- AVAILABLE NOW!
Become an Official Catch as Catch Can Wrestling School & Representative Coach with Snake Pit U.S.A. TODAY!

Get started as an Official Snake Pit U.S.A. Catch Wrestling School/Affiliate & Representative Coach
Today for

ONLY $750.00!
If you are interested in becoming an Official Snake Pit U.S.A. Catch Wrestling School/Affiliate Gym/Representative Coach or just want more information on this exciting opportunity,
click here

.
AFFILIATION NOTICE: All United States based Snake Pit U.S.A. Affiliate/Representative Coaches, and those being promoted to the rank of "Assistant Coach" in the future will need to accomplish USA Wrestling's "Copper Level" Wrestling Certification and provide proof of certificate before being considered for Affiliation. To become the rank of "Coach" you will need to complete the Bronze certification course. This will not only certify you to become a Snake Pit U.S.A. affiliate, but enable you to coach youth wrestling programs across the United States. Thank you. Note: This certification involves a quick background check with USA Wrestling at no additional cost.
Steps to Obtaining USA Wrestling's Copper Level Wrestling Certification:
Join USA Wrestling at

www.themat.com

and complete the Coach's membership application including background check.
Next go to the American Sport Education Program's website at

www.ASEP.com

and register.
Go into the ASEP "Courses and Tests drop down menu and select "Shop for an online course. Purchase the online "Copper Certification", Coaching Youth Wrestling, Third edition. BE SURE TO SELECT THE ONE THAT SAYS 'COPPER CERTIFICATION'. There are 3 different Wrestling courses and only this one will satisfy this requirement AND THE USA Wrestling requirement to coach youth wrestling in the United States.
Upon completion of course, please scan and email a copy of your certificate to

contact@snakepitusa.com
All Snake Pit U.S.A membership (Bronze, Silver and Gold) sales are final for the agreed terms; Bronze 1 year, Silver 1 year and Gold 3 years. No Refunds will be given on membership sales.