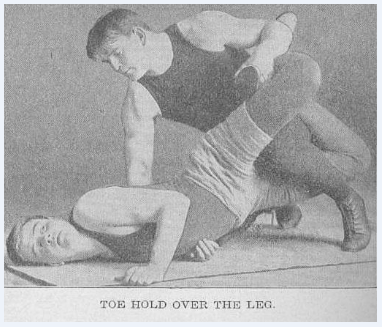 Catch-as-Catch-Can is defined as "using or making due with whatever means are available". Jiu-jitsu translates to "the gentle art" and Judo translates to "the gentle way". Catch as Catch Can Wrestling is regarded throughout the world as "the violent art," as it is considered the most aggressive of these popular styles. It is also the father of Olympic Freestyle Wrestling (once commonly known as Amateur Catch as Catch Can) and Collegiate Folkstyle Wrestling.
Hundreds of years old, it originated in Lancashire England and its dominance in matches against other wrestling styles gained worldwide notoriety around the mid 1800's. During this same time it found its way to North America via immigrants and world travelers and became the top sport in America by the turn of the 20th century. This grappling art is comprised of takedowns, throws, ground based wrestling rides, breakdowns and transitions combined with a surplus of excruciating submission holds. The term "No Holds Barred" originated with Catch Wrestling, as there are no illegal submissions, holds, pins or takedowns, which makes it extremely effective and efficient for both combat sports and self defense.
At Snake Pit U.S.A. we proudly carry on the history and tradition of the legendary Snake Pit name here in the United States alongside our affiliates around the world. We have combined the American Catch Wrestling philosophy of "submission from any position" and merged it with the original "old school" violent takedowns, and painful wrestling techniques and submissions from Wigan, England, the birthplace of Catch as Catch Can Wrestling.
With a proud heritage in both lineages, and a Coaches Association with immeasurable knowledge and expertise in this field, we believe we have formed one of the most formidable and complete grappling programs to date. Our program is designed to take you from novice grappler (Journeyman-1) to Catch Wrestling Coach. However, that doesn't mean it can't be used to compliment your current grappling program or skill level by enhancing it with more solid takedowns, breakdowns, ground control (rides), escapes, reversals, transitions and endless submissions.

As a member of Snake pit U.S.A. you will have the opportunity to gain extensive technical knowledge in REAL Catch as Catch Can Wrestling and earn certified rank in the following skill levels:
Journeyman: levels 1 and 2

Ripper: levels 1 and 2

Shooter: levels 1 and 2

Hooker: levels 1 and 2

Assistant Coach: levels 1 and 2

Coach
Click below and Join Team Snake Pit U.S.A. today to access our Members section for 100+ HD videos and much more!