Another seminar in the books! Great day of training at "Team Believe Medford" Long Island, NY!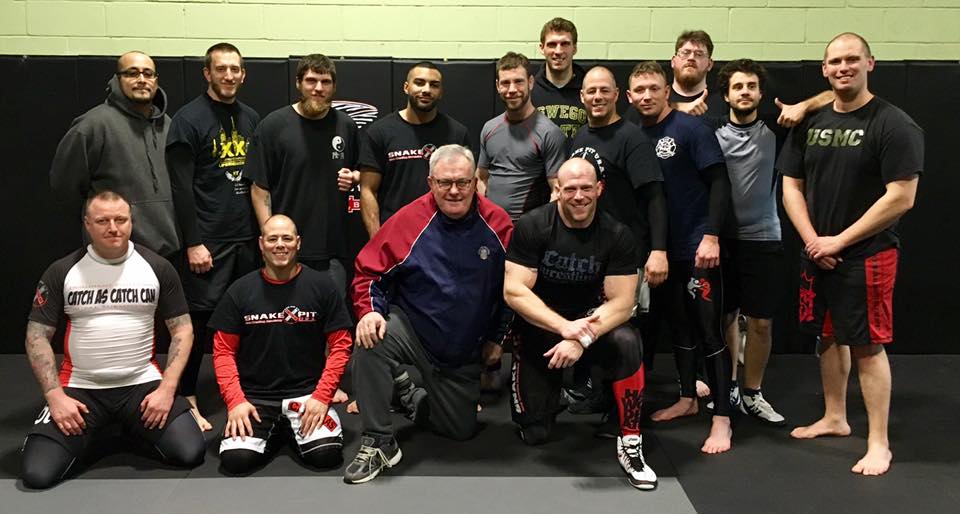 This special event featured legendary wrestler and coach, Floyd "Bad News" Winter on the mats teaching to a very focused audience full of competitive grapplers and fighters. Coach Joel Bane came in halfway through and as usual went into a highly detailed series after series ranging from leg locks and neck cranks to a few smooth transitions and set ups.
Special thanks to all those in attendance for their continuous dedication and commitment to excellence and of course to Snake Pit USA Rep Coach Anthony Spataro for hosting us every year.
For the absolute best in REAL NO-GI Submission Wrestling Catch-as-Catch-Can style, in Medford, New York area, check out Team Believe MMA at http://www.teambelievemma.com
Social tagging:
billyrobinson
>
billyrobinsoncatchwrestling
>
bjj
>
bjjgirls
>
BJJlife
>
bjjlifestyle
>
bjjtechniques
>
boxing
>
brazilianjiujitsu
>
catchwrestling
>
CatchWrestlingschools
>
catchwrestlingtechniques
>
fight
>
fighter
>
fightinking
>
fitness
>
FloydWinter
>
goals
>
grapplingtechniques
>
guard
>
Jiujitsu
>
jiujitsugirls
>
jiujitsulifestyle
>
joelbane
>
johnpotenza
>
Judo
>
juijitsutechniques
>
jujitsu
>
jujitsutechniques
>
k1
>
karate
>
kickboxing
>
Leg Locks
>
Long Island BJJ
>
long island no gi
>
lucha
>
martialarts
>
mixedmartialarts
>
mma
>
motivation
>
muaythai
>
No Gi Submission Wrestling
>
noexcuses
>
nogi
>
nogibjjj
>
nopainnogain
>
passingguard
>
sacrifice
>
snakepitusa
>
strength
>
submissionwrestling
>
taekwondo
>
Team Believe MMA
>
topfighters
>
UFC
>
ufc208
>
ufc209
>
workout
>
wrestlingtechniques