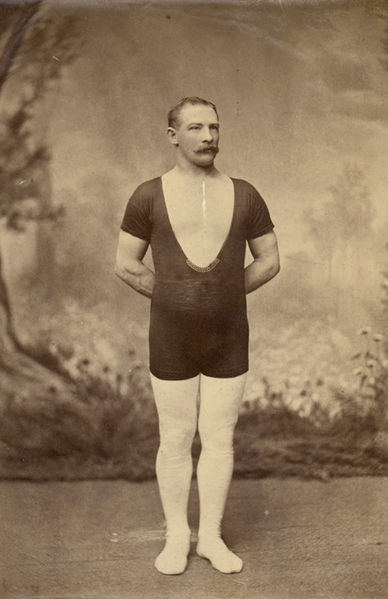 Edwin Bibby
(15 November, 1848–1905)
Edwin Bibby was an English wrestling champion during the 1870s and 1880s. He was a popular Catch-as-Catch-Can style wrestler in his generation. He became the first American Heavyweight Champion in 1881.
Bibby was born in Ashton-under-Lyne, Lancashire, United Kingdom in 1848. He married Mary Ann Connelly (age 16) in 1867 and had 13 children, only three of whom survived. He began working as a coal miner in 1871.
Bibby began his wrestling career in 1872. He performed for Queen Victoria in Prince Albert's Court in London. In 1879 he immigrated to America and later sent for his family. He lived in New York and later Rhode Island, and became a naturalized citizen in 1900.
On January 19, 1881, Bibby became the first American Heavyweight Champion with his victory over Duncan C. Ross. He lost that title the next year, on August 7, 1882, to Joe Acton in New York City.
Bibby's final wrestling match was against Sorakichi Matsuda, whom he defeated on October 28, 1887, in Buffalo, New York. In 1905, Bibby died from rheumatism. He is buried in Fall River, Massachusetts.
Bibby's World Championship silver belt can still be found today in a Lancashire, England museum.
Source: "Edwin Bibby", All about Bibby (Google Sites).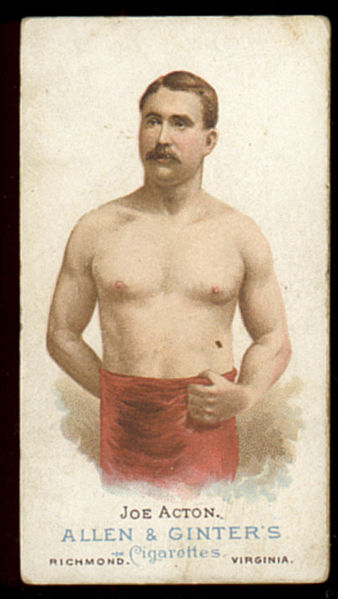 Joseph Acton
(8 March, 1852 – 26 June, 1917)
Known by his ring name "Little Joe" or "Limey Joe", Joe Acton was a British professional wrestler and world champion who competed in England and America during the late 19th century. Acton is one of a handful of wrestlers credited with introducing "Catch-as-Catch-Can" wrestling, with its roots in old Lancashire wrestling, to the United States. Wrestling under the name Joe Acton, and nicknamed "The Little Demon," Acton was considered one of the top wrestlers of his era.
Acton began wrestling in his native Great Britain during the 1870s defeating Tom Cannon to become the first World Catch-as-Catch-Can Heavyweight Champion on 12 December 1881. He toured the United States that same year facing several prominent wrestlers including Edwin Bibby, Arkansas Heavyweight Champion Clarence Whistler, and Matsada Sorakichi as well as several rematches against Tom Cannon and was widely regarded as the best wrestler in America by 1887, even though he lost the American "Catch-as-Catch-can" Championship bout to Evan "Strangler" Lewis on 14 March 1887 in one of the biggest matches of the decade.
Acton would also face Australian bare-knuckle boxer William Miller in a series of wrestling matches in Philadelphia, Pennsylvania between March and July 1888 as well as Bob Fitzsimmons in 1891.
Although retiring close to the turn of the century, he did agree to several exhibition matches while a student instructor at Multnomah Athletic Club in Portland, Oregon.
In one of his final matches, at age 59, Action faced Tokugoro Ito in a jacketed wrestling match at the Grand Opera House in Seattle, Washington on 11 May, 1911. Although he had previous experience in jujitsu-style fighting having faced British judoka Yukio Tanai in 1904, he lost to Ito in two bouts, in three and two minutes respectively.
Sources:
1.) A Big Wrestling Match Arranged". New York Times. 8 June 1882
2.) Lewis and Acton: "The Strangler Finally Gets The Better of His Famous Adversary," Chicago Tribune 12 April 1887
3.) "World Catch as Catch Can Heavyweight Title (19th Century)- Puroresu Dojo 2003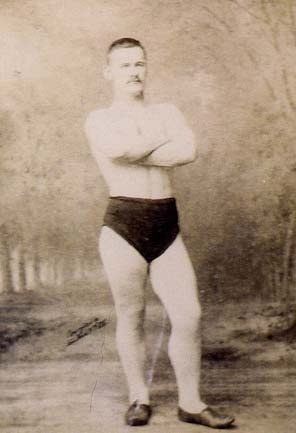 "The Strangler" Evan Lewis
(May 24, 1860 – November 3, 1919)
Over a century ago, professional wrestling was as truly violent a spectacle as its burlesque modern incarnation intends to be. Now either forgotten or confused with a later popular Wisconsin-born wrestler who borrowed his name, Evan Lewis was one of the most feared and famous figures in 19th Century sports."
Lewis was an American professional wrestler who was the first internationally recognized American Heavyweight Champion and is credited with perfecting the "stranglehold" or "neck yoke" more commonly known today as the rear naked choke. He'd slip his wrist down below his opponent's ear over the carotid artery and squeeze, shutting off the blood supply to the brain thus putting his opponent to sleep. It was a legitimate hold in Evan Lewis' day, but it was illegal by the time Ed Lewis came along. However, all the hookers knew the hold. Ed himself learned it in Chicago and adopted it as a performing hold, something to excite the crowds. That's how the headlock came to be such a standard hold in the wrestling ring as a cover-up for the strangle-hold or "neck yoke".
Born in Ridgeway, Wisconsin, Lewis began wrestling professionally by winning a 64-man tournament in Montana in May 1882. He returned to Wisconsin and defeated Ben Knight for the Wisconsin Heavyweight Championship in a Mineral Point match on March 20, 1883. Pro wrestling annals call him "The Original Strangler", to differentiate him from another Wisconsinite, Robert Friedrich, who gained enduring fame with the ring name of Ed (Strangler) Lewis, chosen as homage to his predecessor.
"A cruel and really dangerous athlete," wrote ring historian Nat Fleischer of the 5-9, 180-lb. Lewis in his book "FROM MILO TO LONDOS". "Lewis for many years held his own when pitted against the best men … and the country grew fairly wild over him and his wrestling ability."
Martin "Farmer" Burns, whose legend has long eclipsed that of Evan Lewis, owed his origins in the mat game, and the rudiments of his art, to the latter. Burns won what would forever after be billed as the "world" championship from Lewis in 1895. By then, "catch", as opposed to the previously popular disciplines of collar-and-elbow and Greco-Roman, had ascended to primacy in the minds of American pro wrestling enthusiasts.
This happened, largely, in the wake of two Chicago confrontations between Lewis and a popular Japanese invader, Matsada Sorakichi. They had two much-ballyhooed, largely attended Chicago bouts in 1886; in the first, Lewis roughly strangled Sorakichi into submission. Sorakichi implored Lewis to wrestle again, but this time with the strangle barred. Lewis agreed. Sorakichi emphasized how serious he was about the stipulation.
"You choke me," he told Lewis, "I shoot you."
"I will not choke you this time," Lewis averred. "But I will screw your leg off." And he darn near did. Sorakichi was never again the same, describing to people from his hospital bed how Lewis had tried "to break the leg like a stick."
Next was a showdown between Lewis and an Englishman, Joe Acton. In April 1887, at Chicago, Lewis consolidated his claim to catch-as-catch-can supremacy by taking three falls from Acton inside a mere 26 minutes, and thus began his eight-year rule over American Catch as Catch Can wrestling until he finally surrendered the laurels to Farmer Burns in 1895.
Sources:
1.) Professional Wrestling Hall of Fame, by J Michael Kenyon
2.) "HOOKER: An Authentic Wrestler's Adventures Inside the Bizarre World of
Pro Wrestling" by Lou Thesz with Kit Bauman, Copyright 1995)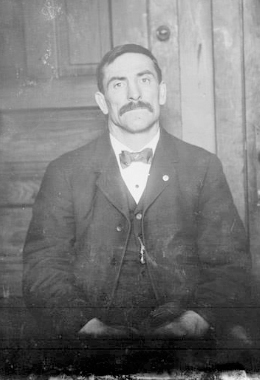 Martin "Farmer" Burns
(Feb 15, 1861 – Jan 8, 1937)
"The Father of American Wrestling"
Martin "Farmer" Burns was born on February 15, 1861 in a log cabin in Cedar County, Iowa. His father was a farmer who died when Martin was 11 leaving him, his mother, a brother and five sisters. The family was poor which caused Martin to work many years at hard labor from a very early age. He also worked in grading camps which was also very hard physical labor. The hard work was really a key to Martin's physical development as he and other athletes of that era developed their physical strength through performing hard labor rather than working out in gyms.
From a very early age Martin displayed an interest in, and had a natural ability for, wrestling which was developed in many impromptu matches with boys in his home town and the surrounding area.
Martin was born during a very troubled time for the country as the year of his birth was also the year that the American Civil War started. Wrestling was a popular activity in the army camps, as it had been and continued to be, in the camps and towns that sprang up during the westward expansion. During the Civil War its popularity increased due to the fact that the wartime President, Abraham Lincoln, was himself a champion wrestler having defeated the Louisiana State Champion in New Salem, Lousiana in 1831.
The grading camps really provided the opportunity for the maturing Martin to hone his skills. The camps were populated by very rugged, tough men who were heavy drinkers, smokers and chewers who stayed up all night playing cards. They depended strictly on their brute strength in wrestling matches which were a very popular activity. Martin was able to beat them because of better conditioning as he never participated in drinking, smoking or other activities that would hurt his conditioning. He also had a very analytical mind which was constantly evaluating different wrestling techniques and trying to improve on them. The combination of the conditioning and the knowledge made him a lot of money during the wrestling matches on payday.
His nickname of "Farmer" was given to him on his first trip to Chicago in 1889. He had traveled to Chicago on a cattle car and was very impressed by the city. One of the things that impressed him most was a sign offering $25.00 for anyone who could last 15 minutes with 2 well known wrestlers of the time – Jack Carkeek and Evan "Strangler" Lewis. At first they didn't want to give him a shot because he was unknown, but eventually he made it on stage in his overalls and sock feet with jeers of the crowd insulting him by calling him "Farmer." He stayed with both of the wrestlers for 15 minutes and the crowd's jeers soon turned to applause. The next day he found himself treated as a hero by the local papers.
In his time Farmer Burns wrestled over 6,000 matches in every type of situation from grading camps to circuses and lost only 7. He won the World Wrestling Title in 1895 when he defeated Evan "Strangler" Lewis and retained the title until 1897 when he was defeated by Tom Jenkins. He later won and held the light heavy weight title until 1908. Burns weighed only 175 pound but defeated many of the great wrestlers of the day-some of which outweighed him by 50 or 100 pounds. He had a very strong neck that measured 20 inches and allowed him to perform one of his favorite stunts of doing a six foot hangman's drop which he performed many times.
One of his greatest accomplishments was taking another Iowa farm boy, Frank Gotch and developing him into a world champion wrestler that many believe to be the greatest wrestler of all time. He also trained many other notable champions including Earl Caddock.
His correspondence course is very well done and combines calisthenics, light dumbells and resistance exercises in a very effective way. It is as useful today as when it was written.
He was not only a great athlete,but a creative and smart businessman whose promotional brochure and correspondence course provided the prototype for the many physical culture and bodybuilding courses that followed in the US in the 1920s,30s, and 40s. He was still wrestling well into his sixties and reportedly remained active and in good health until his death.
Source:
www.sandowplus.co.uk
By: Gordon Anderson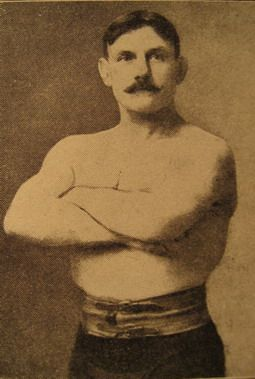 Dan McLeod
 (1860 – June 20, 1958)
Dan McLeod was the ring name of a Canadian Catch Wrestler of the late nineteenth and early twentieth century, who held the American Catch as Catch Can Heavyweight Championship twice. Born George Little in Hamilton, Ontario, he worked as a miner in Nanaimo, British Columbia and wrestled his first match in 1889, winning the Pacific Coast heavyweight championship that same year. His public profile claimed that he was born Dan S. McLeod in the Scottish Highlands in 1867.
On October 26, 1897, McLeod defeated Martin "Farmer" Burns to win the American Catch as Catch Can Heavyweight Championship, which he would retain for four years. The most notable incident during his reign as champion came far away from the media spotlight when on June 18, 1899; McLeod met and defeated a young Frank Gotch in a hard-fought impromptu match on a cinder track. It was Gotch's very first professional match and he later recounted that McLeod had hustled all involved by pretending to be a simple furniture dealer from a neighboring town, but was impressed enough by Gotch's talent to leave him a visiting card revealing his true identity.
McLeod's reign as champion came to an end on November 7, 1901 when he was defeated by Tom Jenkins. Amid a series of rematches between the two men, McLeod recaptured the title on Christmas Day 1902 but lost it back to Jenkins the following April.
After retirement, McLeod worked as a wrestling instructor at the Los Angeles Athletic Club.
Sources:
1.) "Sports and Pastimes". British Colonist. October 21, 1897. pg.5
2.)"Former Champ in Wrestling an Instructor". Pittsburgh Press. pg.8
3.) Auburn Citizen. February 28, 1907. pg.3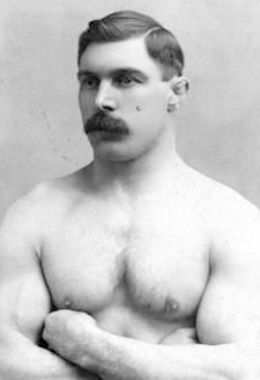 Tom Jenkins
(August 3, 1872 – June 19, 1957)
At the turn of the twentieth century, "Rough Tom" was the most feared matman in America. The 225 pound former ironworker from Ohio was renowned for his strength and damaging style. Frank Gotch judged Tom Jenkins to be the strongest wrestler he ever faced. Jenkins thought nothing of mixing it up in the roughest fashion possible; his style was wide open at all times with plenty of elbow shots to face and body. When choke-holds became illegal, Tom invented his "jaw-lock" which he used to choke his opponents. While opponents came onto the mat unarmed, Tom's rock-hard sharp calloused hands could and did flay the skin right off a man's face and body. He was a cagey veteran of hundreds of bouts with all the fighting heart of a true champion.
The harsh realities of the times were hard on the Jenkins family. Tom's father, Thomas Jenkins of Wales, returned to his home in Holland from extended mining operations training in Russia to find his first wife and all of his children dead in the Great Potato Famine. He married his second wife, Mary Williams of Wales, in Scotland. They had three daughters who all died quite young in Scotland. Thomas and Mary Jenkins moved to England where their first three sons, Timothy, Abraham and John, were born. Timothy died in England before the family immigrated to Bedford, Ohio. Their final two sons were born in America: Timotheous and then, on August 3, 1872, future wrestling champion Thomas. The Jenkins family moved to Newburg (still in the Cleveland area) when Young Tom was five. The spirited Young Tom needed firm guidance at Woodland Hill School which was backed up frequently by Old Tom's very firm hand at home.
It was a rainy Fourth of July holiday in the summer of 1881 following Young Tom's second grade year that changed his life. Five independent youngsters found their cannon firing salute to Independence Day spoiled by rain-dampened black powder. But the creative cannon battery team came up with a great idea in the early morning hours of July 5th: build a fire under the cannon to dry out the wet powder. The predictable explosion blew the two-foot iron cannon apart injuring four boys. Tom got the worst of it with iron fragments and black powder specks embedded in his broken-jawed face, neck, and chest. Dr. Brooks worked to save Tom's eyesight by confining Young Tom to a quiet darkened room for close to a year. Tom's right eye was blind for life with limited sight in his left eye. Tom's formal education was over when Dr. Brooks told Tom the strain of reading with his weak left eye could blind him totally.
The year 1882 found the illiterate second grade graduate out on the streets of the greater Cleveland area. He entertained himself with pranks and petty theft. Enterprising Young Tom would steal from street vendors and sell his loot to other vendors a few blocks away. It was a fast and busy life for Cleveland's own little Oliver Twist and by the time he was twelve years of age Tom had been in many scrapes and formally arrested eight times. But Tom explained, "There wasn't never no meanness in me. These were just the pranks of a wild kid who was trying to keep busy doing something, but you got pinched easy in them days."
The self-described Wild Kid needed hard jobs to keep him busy and away from trouble. Tom worked as a water and spike boy for a railroad repair crew when he was just ten. He was always energetic but began to build his infamous strength before he was twelve years old working the bellows as an apprentice chain maker. By age twelve he was making tire irons. Then at sixteen years of age Young Tom got the job that would shape him into the rock hard man who could overpower the greatest wrestlers in the world. Tom was promoted to Rougher in Newburg's American Wire & Steel Mill, No. 9. A two-man team of Roughers used heavy tongs to carry white-hot 100 pound steel ingots to grooved rollers. The powerful Roughers had to work quickly feeding the steel back and forth through the fast moving rollers while it was still red-hot. As the 100 pound ingot was pressed out longer and thinner it acquired a wicked curl that would catch and maim or kill a Rougher who was not nimble on his feet. Years of fourteen hour days in this life threatening training regimen built the future wrestler's strength, reflexes, agility, and rock hard calloused hands.
The door to opportunity opened in early 1891 with an exhibition wrestling match scheduled among the events at a benefit for an injured waterboy. When professional wrestler Al Wood's opponent did not show, eighteen-year-old Tom was drafted by his fellow millworkers to fill in. Compensating for his lack of skills with his strength and agility, Tom fought the professional to a draw. This moral victory won Tom fame at work and more: George Patton, a mill manager, arranged for three wrestling lessons a week with Luke Lamb in Cleveland. Tom continued as a full-time Rougher while training with other millworkers on breaks and practicing his new wrestling skills at night.
Beginning his wrestling career slowly, while still holding down his Rougher day job, Tom beat professionals Pete Shumacher and Hans Spiegel–both in straight falls. In May of 1893 Tom quit the mill to go pro. Tom proved to be invincible on the mat. In his first seven years of wrestling Tom had yet to lose a single fall but his professional career floundered as he was swindled of his winnings by one greedy manager after another; Tom couldn't read a contract.
In 1898 things turned around. In February he got the best partnership of his life with his marriage to his one true love, Anne Lavinia Gray of England. He also got Harry Pollock as his first honest manager. Pollock arranged Tom's shot at the big time with a match against the great Martin "Farmer" Burns in Cleveland. Tom took Burns in straight falls to make a claim on the American heavyweight title. Tom finished out a great 1898 with the birth of his first daughter Lavinia.
Tom continued undefeated, meeting and beating all championship claimants including a win over Ernest Roeber on July 5, 1901 to set up a winner-take-all match with Dan McLeod of Hamilton, Canada. On November 7, 1901 Tom met McLeod in Cleveland and Dan McLeod pinned Tom in thirty-six minutes. Tom was devastated. By some accounts this was the very first time Tom had ever been pinned in a match. How did he handle this? Tom came back to take the second fall in twenty-two minutes and the deciding third fall in nineteen minutes. Thomas Jenkins, now the undisputed American heavyweight catch-as-catch-can champion, had showed his true mettle.
Tom defended his title against all challengers; even when he had blood poisoning so severe he had to wear a buckled leather brace on his infected left leg. McLeod used the buckles against him in a December 25, 1902 title match until Tom had to forfeit the third fall and his title to McLeod. But Tom healed and came back strongly in 1903 beating Frank Gotch in straight falls on February 22nd and beating McLeod in straight falls on April 3rd to regain the American title. 1904 began with a January loss to Gotch in Bellingham, WA. and a July two to one loss to George Hackenschmidt in England. But 1904 did bring Tom his second daughter, Audrey. Tom finished out 1904 by returning to his old Rougher job in Newburg. With family and friends about him, Tom's health and strength returned and 1905 became the year of Tom's greatest comebacks. February 1, 1905 he lost to Gotch two falls to one but came back to defeat Frank Gotch on March 15th to regain his American heavyweight championship title for the third time. Two weeks after being beaten by Hackenschmidt on May 4th Tom came back to wrestle his greatest match. On May 19, 1905 Tom took the first and third falls to defeat Frank Gotch and defend his national title in an incredibly tough two hour match. The wrestling series between Tom Jenkins and Frank Gotch was one of the most brutal rivalries in all of American sports. Tom was the only wrestler ever to defeat Frank Gotch three times in all-out shoot matches. When Gotch took back the title for keeps on May 23, 1906, Tom was already deeply committed to his new career.
Thomas was thirty-three in 1905 when he faced his greatest challenge. President Theodore Roosevelt had appointed Tom boxing & wrestling instructor of the United States Military Academy at West Point. The tag of "Rough Tom" took on a whole new meaning with the illiterate second-grade educated retired champion assuming the title of Professor at West Point. Tom would be responsible for the finest young educated minds produced in America. Tom later recounted thinking, "They ain't hiring me to teach reading and writin'. All they want outa me is boxing and wrestling, and I can give 'em plenty of that." Tom's patient wife Lavinia spent endless hours helping her husband memorize manuals of West Point regulations. And Tom learned to read and write. And the honest straight-forward plain-spoken Professor had a great career at West Point, training cadets for 37 years. Pop Jenkins was idolized by the cadets. It is estimated that before retiring in 1942 Tom applied his none-too-gentle hands to over 13,500 West Point cadets and taught them how to be tough, both on the mat and in life.
After retirement the old retired champion and West Point legend lived quietly in nearby Cornwall-on-Hudson, New York with his beloved wife and helpmate. Before Lavinia died, Mr. and Mrs. Jenkins celebrated their fifty-second wedding anniversary in 1950. Tom was right at home in Cornwall-on-Hudson. During his West Point years he had put in twenty-five years instructing students at the New York Military Academy prep school in Cornwall-on-Hudson. Tom's elder daughter Lavinia, who had been a career nurse since she was nineteen-years-old, cared for Tom in his last years. Mr. Thomas T. Jenkins died on June 19, 1957 at eighty-four years of age. He is buried with honors at the United States Military Academy at West Point.
Postscript: In 1962 George Hackenschmidt wrote of his 1939 visit to Jenkins at West Point, "Tom showed me around the training quarters and I saw his cadets at work. It was a stimulating thing to see the pride of the old-time champion in his work and in his team. The high esteem he held was evident at a glance and there must have been many of those during the war that so soon came (World War II) who look back in gratitude to the strength and endurance Tom's training had imparted to them." Among Pop Jenkins hands-on pupils were George S. Patton, Omar Bradley, and Dwight Eisenhower. George Hackenschmidt recognized that the influence of Tom's no-holds-barred fighting spirit had an effect on our world today far beyond the wrestling mat. Brigadier General John Thomas Corley was one of the most decorated officers of World War II. General Corley related that in the thick of the Battle of the Bulge when his command had been overrun, "I was punchy for want of sleep. I went into a dugout to think. I put my head down on a table and dozed off. I was a cadet again and in Tom Jenkins' wrestling room. I could hear him saying, 'Mister, what do you weigh? You don't have to be as big as the other fellow to win.' I did not surrender the battalion. General Bradley sent tanks and rescued us." While recognizing that Tom was a truly great wrestling champion, the life and teachings of Thomas Jenkins ultimately far transcended his wrestling honors.
Author: John E. Rauer
Acknowledgement to; Mike Chapman, Tom Ellis, Mark Hewitt, & Karl Stern
Source: Pro Wrestling Hall of Fame
www.pwhf.org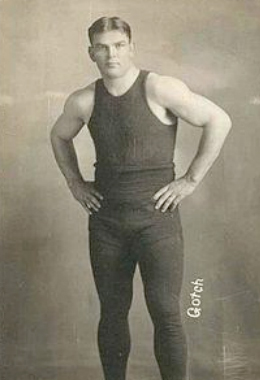 Frank Alvin Gotch
(April 27, 1878 – Dec 17, 1917)
Very early in the 20th century, Frank Alvin Gotch emerged as a professional wrestling hero and became one of the most respected stars of all-time. Born in Humboldt, Iowa on April 27, 1878, Gotch worked very hard as a farmer in his early years, thus acquiring physical strength and a determined work ethic. Intrigued by the sports of wrestling and boxing, Gotch rapidly became notorious for being rugged and tough through winning numerous local matches. At age 21 in Fort Dodge Iowa, Gotch gained the attention of Martin "Farmer" Burns by competing against Burns in a match for a proposed $25. Giving Burns more than he expected in the match, Gotch would soon be trained by the very same opponent. After their match, Burns strongly believed that Gotch could very well become the next wrestling champion of America under his guidance and training.
Under Burns' tutelage, Frank Gotch successfully competed throughout Iowa and then traveled to Alaska where he would quickly become a top wrestler under the name Frank Kennedy. He became champion of the Klondike and earned several thousands of dollars for victories in his half year stay. After the tour of Alaska, Gotch returned to his native Iowa and challenged Tom Jenkins for the American Heavyweight Title. In their first bout in 1903, Jenkins would emerge victorious in a grueling match that would start an epic feud. A rematch occurred in February 1905 that would see Gotch defeat Jenkins for the championship in Cleveland, Ohio. The two great competitors would wrestle several times afterwards but Gotch emerged as the superior wrestler defeating Jenkins in their final three bouts. Gotch proceeded to become a three time American Heavyweight Champion.
Gotch's matches against Russian World Champion George Hackenschmidt further enhanced his status. Known as the "Russian Lion" Hackenschmidt, who earned the title of being world champion, would take on Gotch in Chicago on April 3, 1908. After literally hours of wrestling before a crowd of 40,000 people, Gotch defeated Hackenschmidt and earned the title of new world champion. After the huge win over Hackenschmidt, Gotch became a widely popular sports figure. He commercially endorsed a variety of products and was the star of a successful play called "All About A Bout." Additionally, Gotch was invited to the White House to meet President Theodore Roosevelt. He was regularly seated in luxury boxes and treated as royalty at various sporting events.
The intrigue of another match between Gotch and Hackenschmidt enticed both competitors and fans worldwide. The rematch would occur at Chicago's Comiskey Park on September 4, 1911 and the match proved to be very controversial. It is extensively believed that Hackenschmidt injured his leg during the training period leading up to the match. After Gotch had defeated Hackenschmidt for the second straight time with relative ease, it was rumored that Gotch had paid another wrestler to purposely injure Hackenschmidt before their match. The debate continues to this day over the outcome of the second match between the two champions.
Gotch's noted record includes 154 victories and an amazingly low 6 losses throughout his career. After winning 88 consecutive matches and not suffering a defeat since 1906, Gotch retired at the top of professional wrestling in 1913. After retirement, Gotch's health quickly deteriorated. On December 17, 1917 in his native Iowa home, Frank Alvin Gotch passed away at the young age of 39 due to uremic poisoning. His untimely death only adds to the legacy that he leaves behind. Frank Gotch's career as a professional wrestler not only helped shape what the industry is today, it also shed positive light on what hard work can achieve. Gotch's name is still used throughout America to identify schools, clubs, and other various tournaments and activities. There is no better name to associate with the term success than Frank Gotch.
Source:
Professional Wrestling Hall of Fame
www.pwhf.org
Written by: Andrew Malnoske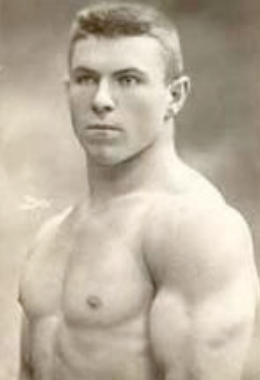 George Hackenschmidt
(July 20, 1878 – Feb 19, 1968)
With a chiseled, muscular physique, "The Russian Lion" George Hackenschmidt propelled himself sufficiently on the mat to become one of the top athletes in professional wrestling history. Hackenschmidt was born in Dorpat, Estonia on July 20, 1878. For much of his early life, he lived in Russia and became an award-winning weightlifter during his early twenties.
Hackenschmidt's shear strength and incredible athletic ability made an easy transition into professional wrestling for him. Trained by famed wrestler George Lurich, Hackenschmidt turned professional in September 1896 at age twenty. Utilizing a classical Greco-Roman style of wrestling in the ring, Hackenschmidt was immediately a very tough competitor. He became the European Heavyweight Champion with a victory over Tom Cannon in September 1902 in Liverpool, England. With the title win, Hackenschmidt was given claim to being the World Heavyweight Champion. In May 1905, Hackenschmidt solidified this assertion by defeating American Heavyweight Champion Tom Jenkins in New York City to become the first undisputed World Heavyweight Champion.
Waiting to challenge Hackenschmidt for the World Heavyweight Championship was a young Iowa upstart named Frank Gotch. After years of anticipation, Hackenschmidt faced Gotch in April 1908 at Chicago's Dexter Park Pavilion. Both competitors battled one another for nearly two hours but after an evenly matched contest, Gotch prevailed and became champion. Three years later, Hackenschmidt would make a second effort to become champion and avenge his loss to Gotch. However, in front of 30,000 fans at Chicago's Comiskey Park on Septermber 4, 1911, Hackenschmidt lost to Gotch for the second straight time.
The Hackenshmidt-Gotch matches were the pinnacle of professional wrestling during the time period and received much attention from media, fans, and celebrities. They were even described in the 1937 book "Fall Guys-The Barnums of Bounce" by famed writer Marcus Griffen. To this day, the Chicago Public Library receives requests to view the newspaper accounts and files on the bouts.
Not long after the second defeat by Gotch, Hackenschmidt officially retired from professional wrestling in 1911 and pursued his very own interest in writing books. Hackenschmidt wrote the book "The Way to live", which was published from 1908 to 1940 in twenty-one editions! Later on in his life, Hackenschmidt became a philosopher and wrote five books on intellectual topics.
George Hackenschmidt passed away on February 19, 1968 at the age of 89.
Hackenschmidt was considered the best Greco-Roman wrestler of his century after winning over 3,000 bouts between 1889 and 1908. His combination of brute strength, wrestling ability, and great intellect will likely never be duplicated.
Source:
Pro Wrestling Hall of Fame
www.pwhf.org
Written by: Andrew Malnoske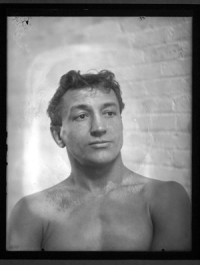 George Bothner
(June 5, 1867 – November 20, 1954)
George Bothner was the Catch as Catch Can Lightweight Champion of the World, who in his prime took on and pinned more than 50 heavyweights. Bothner was born in New York, June 5 1867. His father was a piano maker and gymnast. George left public school early to take his first job which was keeping the flies off the meat at a local butcher shop. Before the days of modern iceboxes the meat hung or lay on long counters. His salary was 10 cents a day which didn't quite cover expenses so he got another job as an errand boy.
When he was about 16 he saw a wrestling bout at the old Pastime Athletic club in New York between John O'Brien and Lew Chaneworth which gave him the inspiration of his life. Under the tutelage of Gus Bogue and others Bothner studied the grappling game and at 17 entered a tournament held by the National Association of Amateur Athletics in New Jersey where he finished second in the 125lb weight class.
Then he joined the Eugene Horn backer Athlete club which met in the rear room of Brannagan's saloon in New York. Sometimes professional boxing bouts were held there and drew noted spectators such as John L. Sullivan himself. At times the police interfered on which occasions the spectators left by the back door which opened out into a graveyard which was frequently strewn with hats, lost by hurrying customers while climbing a picket fence.
At 18, the required age, Bothner became a member of the Pastime club, which produced many noteworthy boxers and wrestlers. George began to wrestle in tournaments, and on one night won the 125 pound and 158 pound titles there. Then Hughey Leonard offered him a position as his assistant at the New York Athletic club, and Bothner became a professional.
A little later he was the wrestling coach at Columbia University for a year, then onto Princeton as their coach for two years. He then succeeded Bernarr MacFadden at the Knickerbocker Athletic club but while on vacation at Lake Hopatcong, New Jersey the club failed. Upon his return to New York he opened his first private gymnasium. Among his pupils were Clarence Mackey, Jesse, Fred and Walter Lewisohn and John and Lionel Barrymore.
Tom Riley, lightweight holder of the Lord Lonsdale Belt, came over from England and Richard K. Fox put up a belt on this side of the water which was to be emblematic of the Worlds Championship. Bothner beat Riley and continued on to wrestle men at all weights. Bothner always said Frank Gotch, Joe Stecher and Ed "Strangler" Lewis were among the best wrestlers he ever watched but believed the most formidable to be "Yousouf the Turk" who was so big and strong he didn't need to be as skillful as some of the others and he was never thrown once.
George Bothner competed for thirty-five years on the mats in over 200 matches. He even competed in two mixed-style matches against early Kano Jiu-jitsu (Judo) practitioners. One against Katsukuma Higashi in 1905 who at the time was the most famous exponent of his art in America and his second match was against the formidable Tarro Miyake, both of which he was the victor.
Bothner is also remembered as one of the best and most reliable referees in the early days of Pro Wrestling having been the referee in the oldest Catch as Catch Can match, still viewable on film today between Earl Caddock and Joe Stecher. George Bothner passed away on November 20, 1954 at 87 years of age.
Sources:
1.) The Milwaukee Journal Friday, January 27, 1933
2.) The New York Times December 16, 1914
3.) "The Complete Kano Jiu-Jitsu" by H. Irving Hancock and Katsukuma Higashi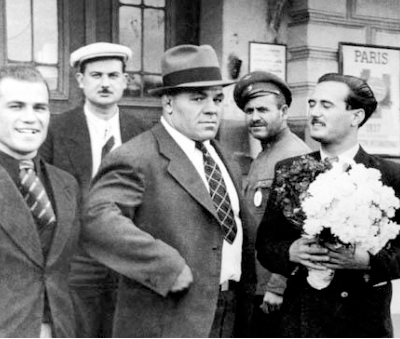 Dan Kolov
(December 27, 1892- March 26, 1940)
Doncho Kolev Danev was born in the village of Sennik, near Sevlievo. At the age of 17 he left from the port in Istanbul to America. There he worked as a docker, miner, railway worker and metallurgist. At that time, fights between the workers were often organized. The Bulgarian defeated all his opponents. Soon he was noticed by the director of the famous American traveling circus "Victoria" where the strong Bulgarian Doncho became the invincible Dan Kolov. In the tournaments organized by the circus, he met many popular wrestlers at that time – Jeff Lawrence, Jack Shirey, called "The Flash Man", Rudy Dusek, Joe Stecher, Evan "Strangler" Lewis, Jim Browning and many others. However, none of them managed to beat Dan Kolov.
He was invited to participate in the only tournament of its kind in Japan, where the wrestling had been a national sport for a thousand years. In the final match Dan Kolov won against Jiki Higen "the Strangler", the idol of Japanese wrestling, defeated by no one. The Bulgarian wrestler participated in the big Catch tournament in Paris. There he overcame all his opponents, including Henry Deglan in the final who was another man known as "The Man with the Thousand Locks", European, World and Olympic champion. This victory brought the Bulgarian the title European Champion and The Diamond Belt. He was called King Kong, The King of the Catch and The Balkan Lion. Except for his sport successes, Doncho was remembered with his big heart, after helping many Bulgarians abroad. He gave almost all his money for charity and bought the first plane of the Bulgarian Posts. Doncho spent his last years in Bulgaria. On March 26, 1940 the invincible Bulgarian wrestler died of tuberculosis. At his request he was buried in his native village. In his honor every year in Sevlievo a free-style-wrestling tournament is organized.
Source:
Bulgarian issue of "Business Industry Capital"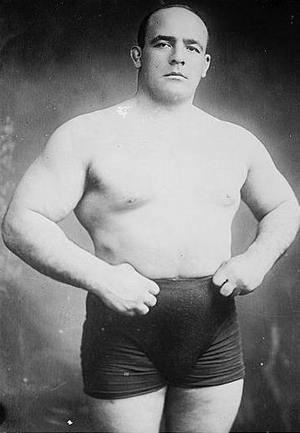 Stanislaus Zbyszko
(April 1, 1879 – September 23, 1967)
Billed as one of the greatest authentic wrestlers of all time, Stanislaus Zbyszko had a brilliant career in the ring during the first three decades of the twentieth century. He first earned the World Heavyweight Championship in 1921 by defeating Ed "Strangler" Lewis, and four years later he regained the world professional wrestling title by pinning Wayne Munn. Retirement from the ring would then follow in 1928 after the strongman met Ghulam Muhammad, The Great Gama. Their match, which took place in India, was one of the most anticipated in wrestling history, drawing a reported 60,000 fans. It was also one of the shortest in history; The Great Gama won the bout in just 30 seconds! However, Eighteen years beforehand, when both men were in their physical prime, the two mighty fighters had battled for three hours in the finals of the John Bull World Championships in London before their match ended in a draw.
Although he was born in Poland in 1879, Zbyszko grew up in Vienna, Austria. His birth name was Stanislaw Cyganiewicz, but after demonstrating bravery and courage in his youth his friends started calling him "Zbyszko", the name of a fearless fictional knight featured in "Krzyżacy", a novel by Henryk Sienkiewicz. This nickname stuck, and, as his wrestling career began to blossom, Cyganiewicz changed his name to Stanislaus Zbyszko after being urged to do so by a promoter of the sport.
Zbyszko was once one of the most muscular and strongest men in the world. During the pinnacle of his fighting career, the mighty wrestler was a "hard" 260 pounds at a height of five feet, eight inches, and his reported measurements were as follows: chest, 55 inches; waist 42 inches; arm 22 inches; thigh 31 inches; and calf 18 1/2 inches. Judging by his large numbers, there is little doubt that the huge wrestler could have been another Doug Hepburn had he specialized in weightlifting, and I wonder what "record" lifts he would have made had he done so.
Although packed with mountains of muscle, Zbyszko was no musclehead. In fact, so great were his intellectual achievements, the strongman was once referred to in The Polish Biographical Dictionary as "one of the most cultured sportsmen who ever lived." Zbyszko was fluent in 11 languages, a graduate of the University of Vienna, and a lawyer by profession. He also was a skilled musician, philosopher, and poet. In addition, the former champ was granted a patent in 1964 for his invention of the tilt-top table, a unique exercise apparatus.
A sports writer once described Zbyszko as "all energy and ambition." The strongman devoted much time to athletic training, and during his competitive years he typically ran 10 to 15 miles each day, in addition to his wrestling practice! You may want to reflect upon this the next time you feel like you don't have time for a 20 or 30-minute exercise session.
In 1967, at the age of 88, Stanislaus Zbyszko died in St. Joseph, Missouri of a heart attack. And, although it has been 45 years since his passing, the Polish strongman remains a legend of the wrestling game. He indeed had been an "eighth wonder of the world," as was claimed by his many fans during his victory years.
Source: www.musclesofiron.com
By: Rob Drucker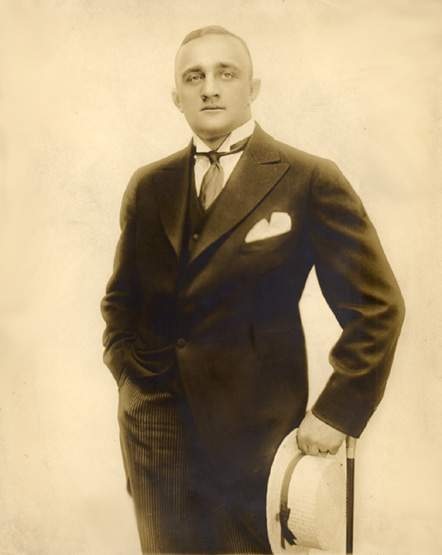 Wladek Zbyszko
(November 20, 1891 – June 10, 1968)
Wladek Cyganiewicz was born in Krakow, Galicia, Austria-Hungary. The date of his birth has been commonly stated to be November 20, 1891. He attended the University of Krakow and earned a Doctor of Law degree from the University of Vienna.
Wladek followed his older brother Stanislaus into professional wrestling. Cyganiewicz was a hard name to both spell and pronounce. Early in his career, Stan changed his ring name to Zbyszko and when Wladek turned to the mat sport he also used that last name.
His first match in America was at Chicago's Empire Theater on January 17, 1913 and Wladek defeated Alexander Angeloff in the time of two minutes and twenty seconds. He soon began moving up the ranks. The Manhattan Opera House held a major wrestling tournament in 1915. In a brutal match against Alexander Aberg, the pair wrestled three hours and forty minutes to a draw.
By 1917, Wladek claimed the world's mat championship based on a victory over Ed "Strangler" Lewis in San Francisco's Civic Auditorium on June 5. Lewis' claim was based on a win over John Olin, who had won a questionable decision over titleholder Joe Stecher in 1916.
Later in the fall another tournament was held at the Manhattan Opera House. In the final tournament contest, held on December 22, Zbyszko defeated Ed "Strangler" Lewis in one hour and forty seven minutes and was awarded the world's championship.
Wladek lost his claim to the world's title on February 8, 1918 in Des Moines by losing to Earl Caddock. After each wrestler had won a fall, referee and noted Chicago newspaper writer Ed Smith awarded the decision to Caddock, a native son of Iowa, when the time limit expired.
In 1919, rumors circulated that champion Caddock, who was fighting in France during the war, was retiring. This news resulted in Joe Stecher, "Strangler" Lewis and Wladek all fighting over the championship. Wladek again claimed the title during this muddled period. Finally Stecher defeated Caddock in 1920 to clear up the claims to the championship.
Wladek, along with his brother Stan, traveled the world. Besides touring Europe, the brothers were well-known in Brazil and Argentina throughout their active years. They even brought their own troop of wrestlers to South America. Over many years, they trained wrestlers including Johnny Valentine and Harley Race.
In a famous 1934 Rio de Janiero contest against the noted Helio Gracie, the pair wrestled to a draw in a three round Jiu-Jitsu rules match. Surprisingly, Wladek wrestled in Chicago as late as 1950. He was an eminent pianist and a real ladies man, who made headlines for the latter.
The February 11, 1964 issue of the Kansas City Star ran a long story on Wladek. He was trying to get a patent for his Zbyszko exerciser which he said had more than six-hundred exercises from which to choose. In the article, Wladek rated the Great Gama and Ivan Podubny as the best wresters he ever saw. He said that Hans Steinke was the strongest. Zbyszko also praised Ed "Strangler" Lewis, Joe Stecher and John Pesek as being great wrestlers.
Wladek Zbyszko passed away on June 10, 1968, at his farm in Savannah, Missouri.
Source:
Pro Wrestling Hall of Fame: www.pwhf.org
By Don Luce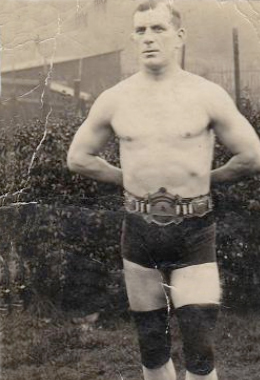 Billy Riley
(1896-1977)
"You can never train too hard" and "Billy is always right"
Billy Riley was a practitioner and teacher of Catch Wrestling. As a trainer in the sport, Riley taught some of the leading post-World War II figures in Catch Wrestling at his gymnasium, nicknamed "The Snake Pit" in Wigan, Greater Manchester, England.
As an apprentice moulder, Billy trained with the Wigan miners in the traditional art of Lancashire Catch-as-Catch-Can, at a time when it was one of the most popular sports in the area. The tough Wigan native soon began showing extraordinary submission skills. Riley was known to be a devastating "hooker" and it showed in his wrestling matches as he soon gained notoriety for breaking his opponent's arms. During the 1920s Riley travelled to Africa to capture a British Empire championship from Jack Robinson.
Billy toured America twice and was recognized internationally for his skill in the sport. He then decided to teach catch wrestling in Wigan, and upon return from one of his trips he purchased a small plot of land in Wigan and with the help of his students built a gymnasium.
When he opened the gym in the 1950s, it fast developed a reputation as one of the most formidable schools ever known. The gym was little more than a tin hut with very few facilities, but it turned out many champions, including the likes of Billy Joyce, who many regard as the greatest Catch Wrestler to ever step in the ring (or onto a field for that matter).
The gym soon became popular for producing some of the most skilled catch wrestlers in the world. Men such as Karl Gotch (Istaz), Bert Assirati, Melvin Riss (Harold Winstanley), John Foley, Jack Dempsey (Tommy Moore), Billy Joyce (Bob Robinson), Billy Robinson, and Billy Riley's son Ernie Riley all attended the gym and it was then that Billy Riley's gym became known as the Snake Pit.
Karl Gotch helped spread the fame of Riley's gym when he told people in America and Japan where he acquired such a formidable style, and people travelled from all around to train there. It is said Billy had two mottos – "Billy is always right" and "you can never train too hard".
Riley died in 1977. Roy Wood and Tommy Heyes kept the Snake Pit running, and the children visited Riley's wife to show her the trophies and achievements made possible by the efforts of her husband.
Source:
www.riverhorse.tv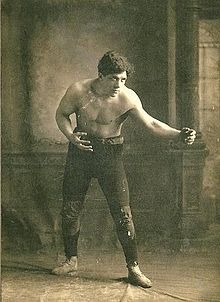 Billy Sandow
(4 Sept, 1884 – 15 September 1972)
Wilhelm Baumann, better known as Billy Sandow, was an American professional wrestler and promoter. He is best remembered as the manager of professional wrestler Ed "Strangler" Lewis and a subsequent member of the famed Gold Dust Trio promotion that changed the face of the industry during the 1920s (along with Lewis and Joseph "Toots" Mondt). He may have taken his ring name from Sandow, a professional wrestler and strongman in the late 19th century. Sandow also served as manager for such wrestling champions as Billy Jenkins, Marin Plestina, and Everett Marshall, and also used the ring name The Zebra Kid in 1951.
He was a charter inductee of the Wrestling Observer Newsletter Hall of Fame in 1996. Sandow and his brother, Max Baumann, traveled together to promote wrestling events. They also promoted events in Georgia. Sandow met his star attraction Lewis during World War I, when Sandow was teaching recruits hand-to-hand fighting techniques. Sandow was credited with helping to develop Lewis' famed headlock. The two men were linked in the public eye, and in 1926, Sandow and Lewis published an eight-volume collection of preferred training and fighting techniques, which they dubbed "kinetic stress."
As the 1920s dawned, the popularity of professional wrestling was dimming, mostly due to the slow-paced "mat wrestling" style which had become dominant. Promoters like Sandow and Toots Mondt were eager to liven up their exhibitions with a more crowd-pleasing style. Time limits were instituted, and events were held in more major arenas. They took control of all aspects of the pseudo-sport, by booking, training, managing and promoting. Along with Lewis, the threesome swiftly took the lead in promoting wrestling around the country, signing some of the top wrestlers to exclusive contracts. The partnership dissolved in the mid-1930s.
In 1922, Sandow issued a public $10,000 challenge to the heavyweight champion boxer of the world, Jack Dempsey, further declaring, "My personal wager of $5,000 still stands that Lewis can beat Dempsey inside of 20 minutes in any ring in the world." Dempsey's manager Jack Kearns issued a response, and the matter cooled. But by the end of the year, Sandow's offer was receiving renewed coverage by the press, including the Chicago Tribune, which published the speculative results of a Lewis-Dempsey match. Lewis won in 38 minutes.
In December, Dempsey told a reporter, "I think I'd be mighty tempted to try to beat that wrestler at his own game. I've done a lot of wrestling as part of my preliminary training and I think I've got the old toehold and headlock down close to perfection. If I can win the first fall from him, I'll begin to use my fists. But I've got a funny little hunch that maybe I can dump him without rapping him on the chin."
Lewis thought that he would have the advantage: "You must understand that in such a contest I would be allowed to use my feet and legs… In doing so, I believe I could break the leg of a man like Dempsey, who is not used to wrestling… Of course there is one chance in a thousand that he might hit me with a punch hard enough to knock me out before I could get hold of him, but that is only one chance. I am sincere about the match, and will put up $25,000 in real money to bet that I can beat him. At one point, negotiations for the match appeared sincere. Sandow met with Dempsey's manager in Los Angeles, and reports of a contract emerged. But the match was never officially scheduled.
Decades later, Sports Illustrated postulated that Kearns was happy to keep the talk alive for publicity purposes, but never had any intention of putting Dempsey into an uncontrolled environment with a "shooting" wrestler. Sandow died on September 15, 1972, at age 88 in Portland, Oregon.
Source: Wrestling Observer Hall of Fame www.pwi-online.com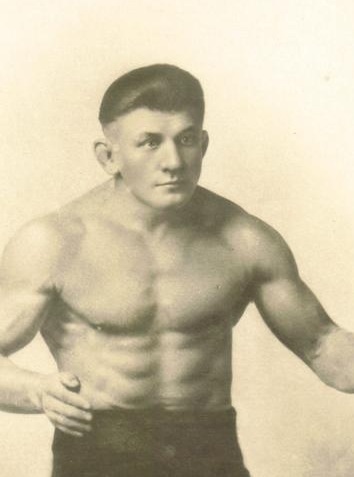 Ad Santel
(1887-1966)
Ad Santel, born Adolph Ernst was a Catch as Catch Can wrestler and claimant to the World Light Heavyweight Wrestling Championship. He is regarded as one of the most influential Catch Wrestlers/Grapplers of all time, but what he is best known for are his legendary battles with some of the greatest judokas whom ever lived.
The early 20th century was a pivotal and exciting time for Judo. In 1882, Jigoro Kano founded the Kodokan in Japan, Judo's official headquarters. The new sport, synthesized from various styles of jujitsu by Jigoro Kano in the 1880s, had begun to grow in popularity and prestige.
Meanwhile, on the other side of the ocean, Catch Wrestling was king. The early 1900s were the golden age of pro wrestling's legitimate lineage. Top grapplers made their living on the carnival circuit, handling local toughs, and fought for higher stakes against other elite Catch Wrestling stylists known as "hookers." While the likes of George Hackenschmidt and Frank Gotch wrestled over heavyweight supremacy, many of Kano's students traveled abroad to spread knowledge of "the gentle way."
One such traveler was Tokugoro Ito, a fifth dan black belt from the Kodokan. Ito left Japan in 1907 and embarked on Seattle, where he helped establish the Seattle Dojo. However, since wrestling paid better than teaching, Ito also worked as a professional wrestler, which saw him, tour up and down the Pacific coast and on to Cuba and South America with none other than Mitsuyo "Conde Koma" Maeda, who would go on to influence Carlos and Helio Gracie elsewhere. Ito returned to the United States in January 1916. He settled in San Francisco and met Ad Santel there a few short weeks later.
Santel fought Ito on Feb. 5, 1916, and Santel emerged victorious after thumping Ito's head off the floor to take a TKO win. Based on his preeminence in prior wrestling bouts, Ito had been dubbed the "World Judo Champion." Now with his victory, Santel proclaimed himself as the world's top judoka.
After learning of Ito's defeat, the Kodokan tried to save face. The institute stated that since Ito had left almost a decade ago, his Judo skills had perhaps weakened, despite his considerable success in legitimate bouts in the nine years since his departure. Even though Ito dominated Santel and choked him out in their rematch four months later, Santel was determined to continue his siege on Judo.
The following year he traveled to Seattle to challenge the transplanted judoka of the Seattle Dojo. On Oct. 20, he had a rematch against Taro Miyake, with whom he had drawn the previous year.
The Seattle Daily Times wrote that Santel half-nelson slammed Miyake "so hard that the Japanese had dizzy spells for half an hour after the fall." Two weeks later, Santel took fourth dan Daisuke Sakai out in two falls, submitting him both times with short-arm scissors, more contemporarily known as a bicep slicer.
Santel's feud with Judo came to a head in March 1921, when he traveled to Japan and publicly challenged the Kodokan. While the Kodokan frowned on professional matchups involving its current students and ordered them not to participate, it didn't stop their judoka from accepting the challenge.
On March 5 at the Yasukuni Shrine, Santel took on fifth dan Reijiro Nagata, whom he slammed for a TKO. The following day, in a captivating hour-long battle, he grappled to a draw with another fifth dan, Hikoo Shoji.
Following the challenge matches in Japan, Santel's interest in the "World Judo Champion" gimmick waned. However, the Japanese were fascinated by the submissions of catch wrestling, and that included Hikoo Shoji himself. Shoji traveled to California with Santel to learn the wrestling ropes and is now viewed as the father of freestyle wrestling in Japan.
On a separate note, Ad is also one of the men responsible for training the great Lou Thesz, whom he told years after the famous 1911 match between Frank Gotch and George Hackenschmidt that he had been paid $5000 by Gotch's backers to cripple Hackenschmidt in training, and make it look like an accident.
However, according to Hackenschmidt himself, the injury was accidentally inflicted by his sparring partner, Dr. Roller, when trying to hold Hackenschmidt down onto his knees and Roller's right foot striking Hackenschmidt's right knee. According to Hackenschmidt, his sparring partners were Jacobus Koch, Wladek Zbyszko and Dr. Roller. Ad Santel is not mentioned in any account of Hackenschmidt's training by either Hackenschmidt or Roller, both of whom offered their insights and accounts.
Santel lost his World Light Heavyweight Championship to Gobar Goho in 1921.
Sources:
1.) "Catching our History" by Jordan Breen
2.) Legacy of Wrestling www.lagacyofwrestling.com
3.) Classic Wrestling Articles-Google sites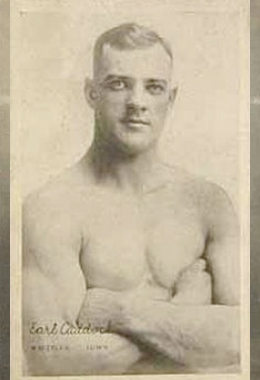 Earl Caddock
(February 27, 1888 – August 25, 1950)
The Original "Man of a thousand Holds"
Earl Caddock was born in Huron, South Dakota on February 27, 1888. His parents were Jewish of German or Bohemian extraction. The family name may actually have been spelled Caddach, Craddock, or Caddack. As a child, Caddock grew sickly and anemic and his physicians claimed he had tuberculosis. As part of his treatment, Earl was sent to the local YMCA. He began swimming and, after his health improved, weightlifting and wrestling. He continued wrestling and won many local amateur titles. Around 1907, he went to Chicago and attended college, presumably at The Hebrew Institution. He was coached there by Benny Reubin, a legend in amateur catch-as-catch wrestling. Caddock also worked out with professionals Charlie Cutler and Ernest Kartje.
Although not many of his 1909-1914 results are known, Caddock was the dominant amateur middleweight and light heavyweight in the country. A newspaper story reported that local farmers in Barea, Iowa arranged a match between the two local champion amateurs – Caddock and Joe Stecher. The two wrestled in a barn in front of thirty-eight people, with Stecher winning the two of the three falls match. On April 4, 1914, Caddock won the national AAU Light Heavyweight title. He was 26 years old, a collage graduate and a landholder, having homesteaded a ranch in Upton, Wyoming near the Black Hills. On April 17, 1915, Caddock won the AAU championship in both the light heavyweight and heavyweight classes.
His pro debut was on June 8, 1915 when he met former American Champion Jesse Westergaard in a handicap match. In January 1916, Caddock signed a contract to be managed by Gene Malady, who gave Caddock the title "The Man of a Thousand Holds". Caddock had the favorite finishing hold of a head scissor. The Stecher vs. Caddock world title match took place on April 9, 1917 in a sold out arena. The attendance was 7,500 for a gate of $14,000. Caddock was awarded the World Title when Stecher was unable to return to the ring for the third and deciding fall. Caddock had overcome size with skill and speed to record one of wrestlings biggest upsets.
On August 4, 1917, the U.S. military determined that he was unfit for WWI military service due to an infection caused by tonsil surgery but Caddock wanted to fight. He went to the famed Mayo Clinic and received treatment and surgery on his tonsils and on October 5, the U.S. Army accepted him. In France in 1918, Caddock was gassed. In Londdrecourt, France Caddock trained the Second Army Athletic Team for competition in the A.E.F. championships where his boxing and wrestling teams won championships.
Earl Caddock's last known match took place in Boston on June 7, 1922. Caddock, unlike many other wrestlers, had a good education and wealth. He became President of the United Petroleum Corporation located in Omaha. He lived in good health until 1948, when he had a major heart attack. He underwent major surgeries in 1949 and 1950. He was bedridden after that and never recovered. He died at his home in Walnut, Iowa on August 25, 1950.
Caddock, at 5'11′ and 185 pounds, was also able to make matches and wins over wrestlers forty pounds heavier than he, look believable. He also had memorable matches with Lewis, Londos, and both Zbyszkos. Caddock was the top babyface of this time.
Source:
Caddock's biography "Earl Caddock" by Steve Yohe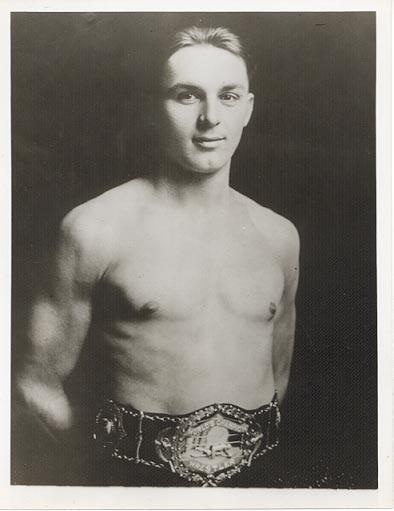 Joe Stecher
(April 4, 1893 – March 29, 1974)
In the years immediately following the retirement of wrestling's top star of the early twentieth century, Frank Gotch, pro wrestling experienced a bit of a tailspin. Without the credibility brought to the profession by the respected Gotch, or the impressive revenue generated while the internationally known champion held the World title, promoters were desperate to find "the next Frank Gotch." Of course, a star such as Gotch comes only once or twice per generation, but with his absense from the sport came opportunity for those matmen who were ambitious and talented enough to answer the call.
With the undisputed champion in retirement, a "new number one" was ready to be crowned and a bounty of talented grapplers stepped up to the challenge. One of those early post-Gotch champions was an athletic, talented wrestler by the name of Joe Stecher. Wrestling in the shadow of the legendary Gotch was no easy task, but Stecher was more than determined to establish himself as the best wrestler in the world, and, as the World Heavyweight champion for more than six years all total, he undoubtedly proved his worth while forever cementing his lofty position in professional wrestling history…
Following the retirement of the sport's number one attraction in 1913, promoters across the country were searching for a man, or men, that could help fill the void left by Gotch's departure from wrestling. Nebraska's Joe Stecher was one of the top young grapplers of the day, and, after amassing an impressive collection of victories throughout the Midwest and Western states, Stecher came to national prominence on July 5, 1915. That date marks the day that the unassuming young Stecher defeated Charlie Cutler for the World championship in what was, at that time, one of the premier wrestling cities in the world, Omaha, NE. In fact, Gotch himself (pictured) was in attendance that night in Omaha, and it was with the world-reknowned former champion's support that the new titleholder set out to carry on in the tradition of Gotch and other greats who had held the belt, while at the same time, stake his own claim as a deserving champion in the 'King of Sports'.
Stecher was the man who introduced the Leg Scissors to professional wrestling, and it was with his trademark submission move (which could be placed either on the head or the torso) that Stecher won a large percentage of his matches, both before and after he became the World Heavyweight champion. While he was by no means a large man in terms of pro wrestling, Stecher was wiry and athletic, deceivingly strong, and well-versed in the fundementals of grappling. For two years, the young champion sat atop the wrestling world as the Heavyweight champion, defending his title frequently and serving as the unofficial post-Gotch ambassador of his sport. And while it's true that it was nearly impossible to match Gotch's extraordinary popularity or his immense box-office drawing power, the soft-spoken but highly competent Stecher was still a definite crowd favorite, and a successful champion in virtually every measurable way.
Joe Stecher's first reign as the World champion ended on April 9, 1917 in a match that was considered a major upset. Stecher, who was nearing his third year as champion, was defeated in a title match against a relative unknown by the name of Earl Caddock in a hard-fought but clean bout. Following his loss of the championship, Stecher remained one of the top wrestlers in the game and a solid performer at the box-office. Eventually, he worked his way back into the championship picture, and on January 30, 1920 he defeated Caddock for the World title in a rematch held in New York City.
After an eleven-month run with the belt during which he met & defeated the best wretlers of the day, Stecher came up against the man who was perhaps the most formidable opponent of his career, a wrestler who emerged as the most dominant wrestler of the post-Gotch era, the legendary shooter Ed "Strangler" Lewis (pictured). On December 12, 1913, Lewis — the most skilled & dangerous wrestler in the game at that time — defeated the overmatched Stecher for the World championship, ending Stecher's second reign as the champion. Many years later, Stecher commented that "Lewis was the toughest man I ever wrestled."
Following his loss of the title, the talented Nebraskan continued on as one of wrestling's most recognized names and a consistent top draw while selling out arenas around the country. After competing for several years without winning a championship, by the mid-twenties the resilient Stecher (who was still relatively young, despite his many years of experience) was once again in the hunt for the title.
On March 30, 1925, he defeated another legendary name from the past, the great Stanislaus Zbyzsco, for the World Heavyweight Wrestling championship in St. Louis, MO. Over the course of the following three years, the three-time World champion incorporated his skill and speed to maintain his firm hold on the World title. However, eventually, he again crossed paths with the nearly unbeatable Ed "Strangler" Lewis and, as had been the case several years earlier, Stecher lost his World title to Lewis on February 2, 1928.
As one of modern pro wrestling's Founding Fathers, former World champion Joe Stecher's impact on the business was indeed profound, and his legendary career truly helped serve as a bridge from what wrestling had been in the past to what it would eventually become in the future.
Source:
www.wrestlingmuseum.com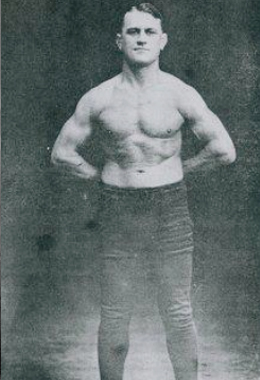 John Pesek
(February 21, 1894 – March 12, 1978)
The "Nebraska Tiger Man," John Pesek , was an extraordinary wrestler. Born in Ravenna, Nebraska, Pesek was fifty pounds the heaviest of three wrestling brothers (the other two were 140-pound twins) and, early on, began earning his spurs as a training partner for then-world champion Joe Stecher, another native Nebraskan.
Pesek really began coming into prominence in the winter of 1916-17, when both the world champion (Earl Caddock) and the Canadian champion (Jack Taylor) were unable to pin him in handicap matches. A year later, he beat Taylor, then Clarence Eklund and Yussiff Hussane – and a year after that toppled John Freberg, Wladek Zbyszko and Jim Londos.
Not until Stecher beat him in a world title match in 1920 did Pesek even lose a match. In a career that would last some 40 years, he lost less than 20 times – a phenomenal statistic. On anyone's all-time list, Pesek has to be among the top ten.
A "hooker" in the true sense of the word, Pesek could get very mean when so moved. In November 1921, he was disqualified against Marin Plestina at Madison Square Garden – but not before he thoroughly embarrassed his quite formidable opponent (Plestina was one of the best at the time), who wound up trying to gouge Pesek's eyeballs in retaliation and was banned for life by New York authorities.
In Boston, Olympic wrestler Nat Pendleton was trying to cast public derision on the hippodroming professionals, asserting there was no way they could stay with a "legitimate" wrestler. Promoter Paul Bowser imported Pesek, billed as "The Unknown," to explore Nat's assertion. The Tiger Man not only forced Pendleton to submit, but broke his ankle in the process. Small wonder, then, that Ed (Strangler) Lewis hired Pesek as his "policeman," or enforcer, for a number of years thereafter.
After a few years working with the so-called wrestling "Trust," Pesek tired of taking orders and went on his own. A group of independent Midwest promoters made him their world champion in 1929, a diadem he defended on and off for nearly 20 years. Along the way, even after he was past his prime, the National Wrestling Association gave Pesek world title recognition in 1937 at a time when there were probably a dozen "world champions" roaming North America.
Over the years, Pesek probably posted as much as $100,000 in forfeits with various athletic commissions in much-ballyhooed efforts to lure the game's top names into the ring. Almost without exception, they quietly demurred. From 1928 to 1954, Pesek is known to have lost just one bout – a November 1933 go with the formidable Ray Steele in St. Louis.
While largely absenting himself from the game's mainstream, Pesek built up one of the country's foremost greyhound racing stables on his more than 800-acre farm in Ravenna. And he raised a family, including a pretty good college football player in son "Jack," who got into the wrestling business in time to appear in tag team matches with his dad in 1950 and who, in turn, himself came a 20-year veteran of the pro wrestling wars.
Sources:
J Michael Kenyon/Pro Wrestling Hall of Fame
www.pwhf.org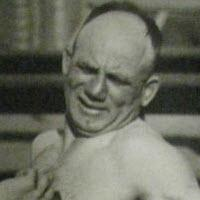 Clarence Eklund
(3 June, 1887-4 January 1981)
Clarence Eklund was nicknamed "The Octopus" for his ability to take leg wrestling to a new level. Eklund worked a lot of these leg submissions off of a cross body ride or single leg grapevine and its said that Eklund was so flexible and technically sound in his attacks that he developed his legs into a second set of arms. Eklund dominated on the mat in the period from 1913-the late 1920′s and its no surprise that the term "streching" became popular during this timeframe.
Eklund would work the cross body ride into maneuvers like the banana split, inside toehold, the "back mount" which was a top scissors crossface combination and a variety of cross faces and reverse cross faces. In addition Eklund was adept at scissoring his opponent's arm with his legs and utilizing an array of nelsons and double arm stretches. With his vast proficiency in stretching his opponent Clarence Eklund would make his adversary feel as though their muscles were actually ripping apart.
Clarence Eklund caused sportswriters like Bill Sopris to look on in awe at his dominance on the mat. Sopris wrote of Eklund "(Ed had) a knack to use the grapevine and hinder progress of an opponent with his legs and his forte was his legs and with uncanny power, he was able to break leverages and wear down a man, finally beating him with half-body scissor and bar arm."
Eklund was without a doubt one of the finest grapplers of all time. At 175lbs Eklund claimed the World Light-Heavyweight title in 1916. In 1928, at age 42, Eklund captured the undisputed world championship at a tournament held in Australia. Eklund held victories over Ted Thye, Clete Kauffman and the legendary Ad Santel. In fact, Eklunds win over Santel in addition to his other victories have caused many to say that he was the greatest pound for pound grappler of all time.
Something else that Clarence Eklund is famous for is dominating amateur wrestling teams. During the twilight of Eklunds career, during his early 40′s, he did something he had done several times throughout his career. Eklund had set up a seminar for the national champion Iowa wrestling team. Eklund indicated to the coach that he wanted to roll with some of his students. Eklund asked the coach to "line em' up" and Eklund pinned every member of the team. It took him the longest to pin the heavyweight. Eklund pinned him in approximately two minutes.
Source:
1.) "Rough and Tumble, The History of American Submission Wrestling" by Erik Paulson, Matt Granahan and JD Dwyer.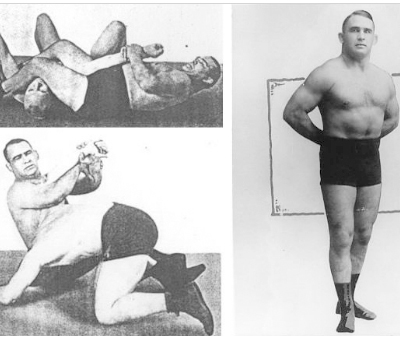 Ed "Strangler" Lewis
(June 30, 1891 – August 8, 1966)
Born in Nekoosa, Wisconsin on June 30, 1891, Robert Friedrich began wrestling at carnivals and on small farms throughout the mid-western United States when he was only fourteen years old. Freidrich assumed the ring name Ed "Strangler" Lewis based on the 19th century wrestler Evan "Strangler" Lewis because of their various similarities. Freidrich also adopted the name because his parent's held disdain for professional wrestling. He is considered to have been one of the finest submission wrestlers of the era with his famous headlock
Lewis garnered quick success in professional wrestling and earned a title shot against World Champion Joe Stecher on December 13, 1920. Lewis won his first championship from Stecher and started a long feud that quickly spanned beyond the wrestling ring. Stecher would become Lewis' greatest rival throughout the next decade not only athletically but also in business. Lewis was the core of the wrestling promotional group called the "Gold Dust Trio" which consisted of Lewis, Toots Mondt, and Billy Sandow.
The trio would begin promoting wrestling shows from town to town and are credited for being the very first group to add story lines and other angles making professional wrestling into a complete spectacle. Stecher himself would have his own promotion compete against the "Gold Dust Trio" perhaps creating the earliest of wrestling promotional wars. Lewis and Stecher reportedly wrestled one of the longest matches in history. Their bout lasted five and a half hours and ended in a draw which only enhanced their rivalry.
After his feud with Stecher, Lewis won several other championships in his career. He would hold the undisputed World's Heavyweight Championship on four separate occasions between 1920 and 1931. Lewis would go on to win the American Wrestling Association (Boston) World Heavyweight Championship, the New York State Athletic Commission World Heavyweight Championship in 1932, and his final championship came in 1942 by winning the Midwest Wrestling Association World Heavyweight title in Kansas City, Kansas. Lewis also battled Jim Londos at Wrigley Field in front of an audience of 35,265 on September 20, 1934. This match set a gross revenue record, which stood until 1952, of over $96,000.
Ed "Strangler" Lewis retired from active in-ring competition in 1948. He defeated some of the top wrestlers of his time including Ed Don George, Stanslaus Zybyszko, and Joe Malcewicz. Upon retirement from the ring, Lewis would still make his powerful presence known in wrestling. Lewis managed one of the most decorated wrestlers of the next era – Lou Thesz. Ed "Strangler" Lewis' name is so synonymous with professional wrestling that it was mentioned in the hit movie "The Music Man" in 1962. Lewis passed away on August 8, 1966 in New York City at the age of seventy-six.
Source:
Pro Wrestling Hall of Fame and Museum
www.pwhf.org
By: Andrew Malnoske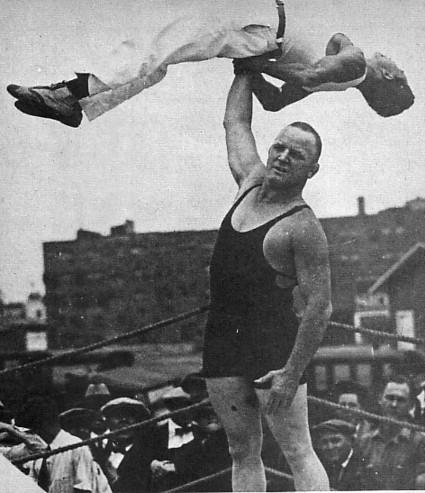 Joe "Toots" Mondt
(January 18, 1894 – June 11, 1976)
James (Joe) Ervin Mondt was born on a small Iowa farm in 1894. His father moved the family to Colorado's Weld County, where mining work was readily available. Circuses often traveled to populated areas and Mondt saw a chance to earn extra money. Being well-conditioned, he soon engaged in carnival wrestling and was discovered by the legendary wrestler and instructor Farmer Burns. Mondt soon developed into a very skillful wrestler. Being the youngest participant in the Burns training camp, the wispy-haired and baby-faced Mondt was said to be christened, "Toots", by Burns himself and the name has endured throughout the years.
Mondt's innovative gamester mind is credited with changing the face of pro-wrestling by combining traditional Greco-Roman and freestyle wrestling, professional boxing, and mining camp brawling. He called it "Slam Bang Western Style Wrestling". Mondt, a dangerous shooter, soon saw that the big money was earned through the promotional end of the business. Circa 1922, Mondt struck up a business relationship with Ed "Strangler" Lewis and his manager, Billy Sandow. Toots introduced his concept to the top wrestlers of the day and immediately signed them up to contractual agreements.
The public loved the new style, which resulted in full capacity gates, excellent payouts for the wrestlers, and handsome profits for Toots Mondt and his two partners. Throughout the 1920′s, the "Gold Dust Trio" took wrestling to new heights in the major sporting arenas in cities throughout the heartland of the nation. New talent was developed and tested by the trio and finishes were carefully choreographed by Toots. Internal rifts developed and the partnership dissolved in the late 1920′s. Toots took his ideas and fresh concepts and headed East.
Mondt, "The Colorado Cowboy", linked up with famed Philadelphia promoter Ray Fabiani. Toots also formed a working alliance with powerful New York promoter Jack Curley and served as his main booker. Their promotion soon topped the bill with Germany's Dick Shikat, who was also under contract to Mondt. In 1930, the very popular Jim Londos, managed by Ed White, was bestowed championship honors by the group.
New York wrestling thrived until Londos balked at paying Toot's managerial fee and Londos left the promotion. Mondt then crowned old friend Ed "Strangler" Lewis as champ on June 6, 1932 after signing him away from Boston's Paul Bowser. However, New York attendance fell and the aging Lewis dropped the belt in 1933 to Jim Browning. Late in 1933, Toots found himself as part of the new "Wrestling Trust" consisting of the Curley group and the Londos/Tom Packs group with Jim Londos as their champion. Together, they controlled professional wrestling in North America and divided profits equally.
When the New York business diminished, Toot's left for Los Angeles and worked with Lou Daro's thriving West Coast territory. In 1936, Mondt returned to New York and associated himself with wrestling pariah Jack Pfefer by overthrowing Al Haft's new champion, Ali Baba. Mondt purchased the contract of new champ Dave Levin from Pfefer for $17,000. By then, the "Wrestling Trust" had dissolved and Mondt took Levin to the West Coast to face title claimant Vincent Lopez.
With Jack Curley's death in 1937, Mondt teamed up with Ray Fabiani and wrestler/promoter Rudy Dusek. Toots continued to promote to a smaller but steady wrestling audience. He was able to bring wrestling back to New York's Madison Square Garden in 1949 after an absence of eleven years (Gorgeous George defeated Ernie Dusek). The previous show at MSG in 1938 had seen Steve "Crusher" Casey defeat Danno O'Mahoney.
In the early 1950′s and with help from NWA affiliates, Mondt was involved in several Northeast wrestling enterprises and created what would evolve into the Capitol Wrestling Corporation. He brought in Antonino Rocca as his top draw. In 1956, he joined Washington, D.C. promoter Vincent J. McMahon and TV wrestling's popularity soared in New York City. Toots taught Vince about booking, working and marketing wrestling as a sports exhibition, while keeping with traditional concepts. Toots controlled Northeast wrestling and rarely allowed champion Buddy Rogers to wrestle in the other NWA territories. Capitol broke away from the NWA in 1963 and formed the World Wide Wrestling Federation (WWWF). Toots and Vince then built the WWWF around Bruno Sammartino. Toots left the WWWF operations in the late 1960′s.
On June 11, 1976, Joseph "Toots" Mondt died of pneumonia at age eighty-two. A highly skilled professional wrestler and an astute promoter with a creative mind, he left an indelible mark on the business as we know it today.
Source: Pro Wrestling Hall of Fame www.pwhf.org by: Johnny Griffin — with Malin Ali Bey.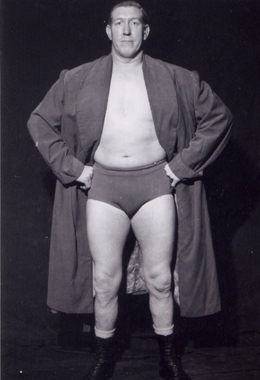 Bob Robinson A.K.A. Billy Joyce
(1916 – 2000)
Bob Robinson was a British Wrestler better known by his Ring Name of Billy Joyce, and he is widely regarded as one of the top British Heavyweights of all time and one of the best technical wrestlers in British Wrestling History.
Like many a Lancashire lad Joyce joined the family business and worked down the coalmine before finding his way as many Wigan men did, into the world of Wrestling. It was his brother Joe (a wrestler himself) who introduced him to the business and it would be Joe again who introduced him to Billy Riley and the Snake Pit where he began to learn his trade and from then on his daily routine would be a hard day's work down the mine followed by a hard evenings work in the Snake Pit where he learnt the business of wrestling.
In the early days of his career it was difficult for him to reach the arenas where the event was taking place. With only a small bag containing his wrestling gear and a hot or cold drink, depending on the weather, he would mount his bicycle and ride to wherever his match was taking place, wrestle his bout, then ride home again. For matches too far to ride to he would hitch a ride with another local wrestler until he saved enough to buy a car. Once he had his car he travelled all over the country to wrestle but always returned home the next day as he would never leave his family long.
A shy man by nature Joyce was often overshadowed by more flashy contemporaries and didn't have the impact on wrestling image wise that they did but for him this didn't matter. For Joyce had only two loves, wrestling and his family, so as long as he could do what he loved and he had his family behind him he was happy. Often the heel he never liked to bring his family to watch him wrestle as he never wanted them to see him having abuse hurled at him by hundreds of people and wanted to save them from the distress this would cause.
For thirty years he sat on top of the wrestling world in Britain. He would start each day with three hundred press ups followed by five hundred sit ups and then a daily visit to the Snake Pit to spar, perfect his techniques and help train the new blood. One of those new blood's that he help train was a Belgian by the name of Karl Istaz who would reach greater fame later as Karl Gotch. Joyce took Gotch under his wing, taught him all he knew; took him into his home whenever he was in the region and looked out for him. Years later Joyce's daughter Dorothy was in America and visited Gotch at his home where he was surprised but delighted to see them and recorded a message to his old teacher – proving that although Gotch had achieved great success he hadn't forgotten Joyce.
Joyce was a stubborn man and was reluctant to let anyone better him. He always told his wife "if I can lick 'em, I'll lick em" and was as good as his word. This made him rather difficult to work with sometimes. While never a man who liked to travel far he did wrestle in Europe and was tempted out to Japan by his good friends Billy Robinson and Karl Gotch but he never wrestled once in America, not because he was never wanted there but because he refused to go there.
Some were truly afraid to wrestler Joyce and refused to even step in the ring with him but most wrestlers thought highly of him and knew him as a very nice and amiable man and respected him as a great worker with a high level of skill and knowledge about wrestling.
Roy Wood, a student of the Snake Pit and the man who took over the running of it from Riley after Riley died, said that Joyce was the best wrestler to ever come out of Wigan. Geoff Condcliffe, better known as Count Bartelli, said that Joyce was the only wrestler he would pay to watch an likened his bouts with Joyce to a chess game in which he was always two or three moves behind Joyce. Karl Gotch names Joyce as the last great "Ripper" of British Wrestling, an opinion shared of Joyce by Billy Robinson who said "His only weakness was that he was too nice, he wanted to beat you but not to hurt you".
Sources:
www.prowrestlingwikia.com
Coach Billy Robinson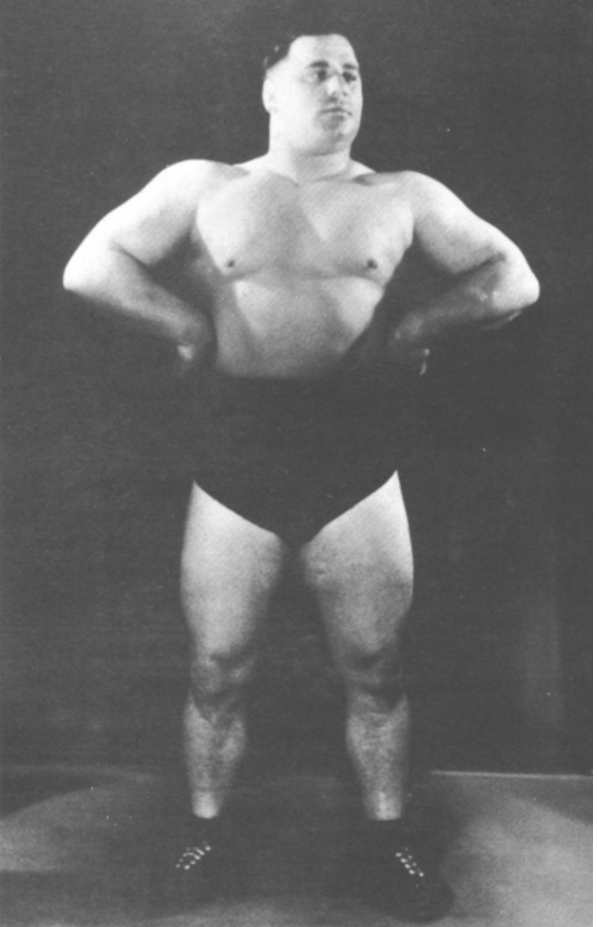 Bert Assirati
(July 1908 – 31 August 1990)
Bartolomeo "Bert" Assirati was an English Wrestler who became a multiple time British Heavyweight Champion. He is known for his impressive feats of strength including laying flat on his back and pulling over a 200lb barbell at arm's length and deadlifting 800lbs. At over 240lbs he is one of the heaviest men to ever perform the "Iron Cross." He was one of the strongest men In the world and could perform such acrobatic maneuvers such as a one-arm hand stand and a back flip while holding two-100lb dumbbells.
Assirati began weight training at only 12 years of age and at the age of 17 he formed part of the acrobatic stage duo "Mello and Nello." At the age of 20, Assirati began his career as a professional wrestler but continued to train as a weightlifter as well. He was trained in Wigan England, in Catch as Catch Can Wrestling by Atholl Oakley.
Known as a vicious competitor, he took pleasure in pain; not only dishing it out to his opponents but he enjoying receiving it as well. Many promoters were reluctant to book him because of his reputation for double –crossing his opponents and many were said to be afraid to wrestle him. Assirati himself claimed that Lou Thesz was one of those who were afraid to wrestle him. Assirati did challenge Thesz, but Thesz refused the match.
Assirati won his first major championship while competing in the British Wrestling Association (BWA). He had claimed to be the British Heavyweight Champion but did not win the title officially until 27 January 1945. Two years later, he also won the European version of the World Heavyweight Championship by defeating Paul Yvar Martinson in the final round of a tournament on 18 February 1947.
He later dropped this title to Martinson but continued to hold the British Heavyweight Championship. To this, he added the European Heavyweight Championship in 1949 by defeating Felix Miquet. In 1950, Assirati left the BWA to wrestle in India. As a result he was stripped of his British Heavyweight title. In 1952 he travelled back to England and reclaimed the European Heavyweight Championship in 1952. In 1955 he won his final championship by defeating Ernie Baldwin for the vacant British Heavyweight title.
Later in life, Assirati worked as a doorman at the Ebbisham Halls in Epsom. He used to enjoy performing a party trick where he would place a metal bottle cap between each finger on both hands and completely crush them all at once. Assirati also faced and beat a boxer named Arnold Corlen in a Wrestler vs. Boxer bout in England and had a brief run in the United States as a wrestler but never got above mid-card.
On August 31 1990, Assirati died of bladder cancer and in 1996 he was one of the very first inductees into the "Wrestling Observer Newsletter Hall of Fame."
<pstyle="textalign:left;">
Sources:
1.) Bert Assirati Champion home page www.bertassirati.com
2.) Wrestling Heritage www.wrestlingheritage.co.uk
3.) "The Bert Assirati Story" www.nzwrestling.com
4.) Wikipedia www.wikipedia.com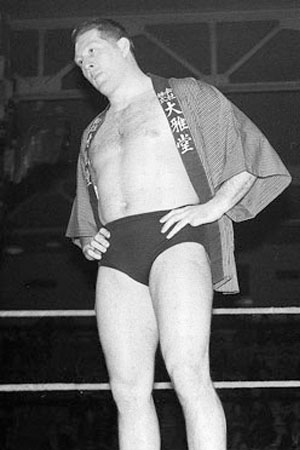 Karl Gotch
(Aug 3, 1924 – Jul 28, 2007)
The name Gotch means a lot to wrestling, and instantly conjures up thoughts about the legendary turn-of-the-century exploits of the original World Wrestling Champion, Frank Gotch. However, unbeknownst to most contemporary wrestling fans, there was another man who wrestled under the name Gotch, a man who is considered by many to be nearly as important and deserving of history's praise as his more famous namesake. In Japan, Karl Gotch is held in as high esteem as Frank Gotch is in America. Likewise, his supreme wrestling skill is as legendary there as Frank Gotch's grappling techniques are here.
The main difference, though, is that in Japan, both men are revered and respected, while in America, Karl Gotch is basically unknown by the vast majority of wrestling fans. Although he may not be as famous as many of the other Hall of Famers, Karl Gotch, a technical wizard and influential champion in the early history of Japanese wrestling, is every bit as deserving. Quite simply, he helped shape our sport into what it is today, despite the lack of notoriety in the U.S.
Karl Gotch was actually born Karl Istaz, in 1924 in Hamburg, Germany. He started his career in the mid-1950's, after being trained at the "Snake Pit" Billy Riley's Gym in Britain, and he originally used the name Karl Krauser. As Karl Krauser, he won several tournaments throughout his native Europe during the first few years of his career. But in 1959, when he traveled to the booming world of American pro wrestling, he was greeted by a somewhat cold reception.
Istaz was a shooter, not a performer, and as a result, he was often passed over by promoters who were looking to pack the house. Unable to do interviews (due to his accent, and mild mannerisms) that intrigued the TV wrestling audience, but more than able to wrestle circles around 90% of his competition, the highly talented Krauser was used primarily as a lower-card worker. His fellow wrestlers, who were higher up "the ladder" often, ducked him, as they knew that Karl Istaz was a dangerous, highly skilled grappler. Not flashy, not flamboyant…but a man who could, and occasionally did, make performance-style wrestlers look highly incompetent whenever he wished.
In 1961, in an attempt to add to his persona, Istaz began wrestling under the name Karl Gotch (in honor of the late, great World champion) and slowly began rising up in the territorial ranks. Soon after changing his ring name to Gotch, Istaz finally began enjoying some well-deserved success. He won the AWA (Ohio) Heavyweight Title in September of 1962 by defeating Don Leo Jonathon, and held the then-prestigous championship for 2 full years before being defeated by the great Lou Thesz.
It was around this time that Gotch became involved in a series of real-life altercations with NWA World Heavyweight champion "Nature Boy" Buddy Rogers. Gotch claimed that a fearful Rogers was continually ducking his challenges. As the AWA (Ohio) champion, Gotch felt he was a legitimate NWA World Title contender, but Rogers continually refused to wrestle him. Rogers, on the other hand, felt Gotch (who was still far from being a "big draw") was simply trying to make a name for himself, at the expense of his own. "The Nature Boy" was not shy about telling Gotch, and anyone else backstage, what he thought about "the shooter". The animosity between the two eventually led to a locker room fist fight (which was initiated by Gotch) that saw "The Nature Boy" come out a beaten man. It also ended up alienating Gotch from even more promoters and fellow wrestlers.
Just prior to his altercation with Rogers, Gotch wrestled his first match in Japan, which turned out to be a 45-minute draw against established Japanese star Michiaki Yoshimura. Little did Gotch know that it would be in the land of the Rising Sun that he would achieve his greatest fame. So enamored with the talented and athletic Gotch were the Japanese that he is, to this day, referred to as "The God of Pro Wrestling". In addition to the influence his unique technical style generated, Gotch help shape wrestling forever through the men he trained. Where would the business of pro wrestling in Japan be, had there not been men like Antonio Inoki, Tatsumi Fujinami, Hiro Matsuda, Osamu Kido, Satoru Sayama (the legendary Tiger Mask) and Yoshiaki Fujiwara? Gotch trained them all, and many others, and instilled in them the same appreciation of wrestling skill and technique that had made him such a star in Japan.
However, in America, things for Gotch were quite different. Although he was considered by many to be the "Uncrowned Champion", Gotch had to struggle for each of the few titles he gained during his 30-year career. He teamed with "Iron" Mike Dibiase in 1967 to win the WWA World Tag Team title in Los Angeles, eventually losing the straps to Pedro Morales & Victor Rivera. His other major title victory was the WWWF World Tag Team championship, which he won with Rene Goulet on December 6, 1971. After being defeated by Baron Mikel Scicluna & King Curtis Iaukea just 3 months later, Gotch soon left the WWWF and returned to Japan for the remainder of his career.
His last major title was New Japan's "Real" World Heavyweight Title, which he won in 1972. He spent the next several years in Japan as a premier wrestler and trainer. One of the biggest stars the island nation had ever known, he wrestled his last match on January 1, 1982 when he defeated Yoshiaki Fujiwara in Tokyo. Soon after, Gotch retired from the sport, in front of the fans that truly appreciated his talent. Through his talent, style, and influence, Karl Gotch established himself as one of the best wrestlers of his, or any, era. Despite his lack of fame and notoriety, he truly helped shape the sport into what it is today (especially in Japan) and was a genuine trend-setter, whose influence is still being felt to this day.
Source:
www.wrestlingmuseum.com
By Steve Slagle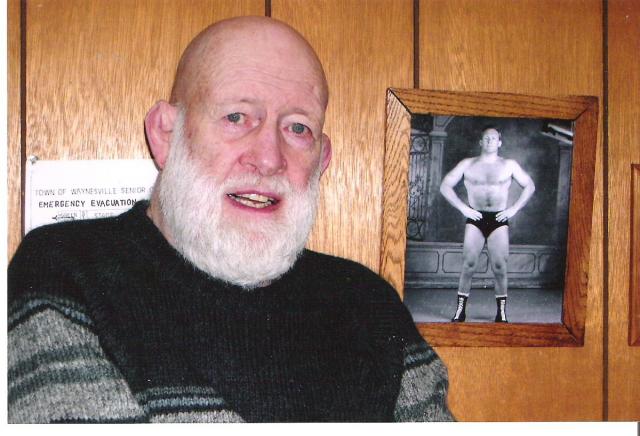 William Wicks "Pops"
Born: 4 April, 1932
William Charles Wicks was born on April 4th, 1932 in a little house in St. Paul Minnesota. He attended the Faith E. Lutheran Church School. As a young man he was a member of the Boy Scouts of America. In his early wrestling days he realized how good he was when he got beaten by two different blind kids on two different days. That was kind of an awakenin…g for him. After that he started working out with an Olympic wrestler four or five nights every week. He enlisted in the United States Army on February 28, 1951 and married Margaret Alice Kroening in July 1951.
While serving in the US Army, he continued his wrestling career, becoming the heavyweight wrestling champion there. He was honorably discharged on June 25, 1956 and obtained his license to wrestle professionally in the state of Texas in 1957. He also wrestled for the USWA in Minnesota and had a significant impact on the organization's popularity. His professional wrestling career lasted from 1955-1960.
He then became a patrol officer for the Memphis, Tennessee Sheriff's Department, coming out of retirement on and off to wrestle part time until 1972. While he was wrestling part time, he became part of the Sheriff Department's Fugitive Squad and doubled in protective security for Memphis and Shelby County Officials. He moved up the ranks in the sheriff's department and became a Lieutenant for the Sheriff's department. Billy Wicks was assigned to the Memphis Police Department Training Academy as co-instructor for the Sheriff's Deputies, police officers, firemen, airport police, Tennessee Highway Patrol, Federal, Park Rangers, and Penal Farm Staff. He instructed physical fitness programs, control techniques, police arts, combatives, baton tactics, disarming, first aid, crowd control, and underwater recovery techniques. From 1983-1985 he was in charge of recreation and physical activities for 1,200 county, city and state prisoners in Memphis, Tennessee.
He wrestled Sputnik Monroe (his biggest rival back in the day) for a reunion match in 1986 at the ripe old age of 54. He then worked as a Bailiff for two years in the Criminal Courts Division I and II City of Memphis, Shelby County Tennessee. He retired from Shelby County Sheriff's Department as a Captain after twenty-seven years of service. One year after his retirement he gave a year of service as a Special US Deputy Marshall in Memphis, Tennessee. He currently assists Johnny Huskey in teaching the toughest wrestling school in the country in Asheville, North Carolina.
Billy Wicks had his first match in Milaca, Minnesota on a Friday night. Then he began wrestling in the carnivals (early 1950′s). If you aren't aware of carnival wrestling then you are missing out on a very important history. The carnivals have basketball booths, throw the ball into the basket off of the angled board, bust balloons with a dart, etc. Well, back in the day they had wrestling booths where people would pay money to wrestle against this guy. It was the carnie's job never to lose. Think of the Gracies and how they would take challenges from people and beat them. Carnival wrestlers were doing this long before them and more often. Just think of how many people go through a booth at the carnival in one night. Now put a wrestler in that booth and you've got the idea of how many matches they each had. These guys were tough. Not only did the wrestle several times every night but if they lost they didn't get paid. Billy Wicks never lost. He made ten dollars for his first two nights work at the carnival. He traveled through Iowa, Wisconsin and Minnesota (his home state). The carnivals usually charged a dollar a minute to wrestle. If you wanted to wrestle and thought you could last five minutes then you would pay five dollars. That's how it worked but of course the wrestler only got a certain percentage of that money.
He not only wrestled in carnivals, but in bars as well. They would roll out a square wrestling mat and wrestle. It wasn't a clean environment. You can imagine the crowd throwing beer and cigarettes at the wrestlers. Occasionally the crowd would get a little too excited (you know how adrenaline can get to a man) and they would try and participate in the wrestling matches. Billy Wicks recalls one of those times he got jumped and he had to knock the guy out cold.
Billy Wicks wrestled on an outdoor football field in a professional wrestling match. He was a 180 pound ball of fire. The newspapers called him Wild Billy Wicks. He was working a show one time and the guy running it was an old-time wrestler with big cauliflower ears somewhere in his mid forties and the guy cheated him. Billy wicks called him a cheat and a thief. As Billy Wicks was in the dressing room the guy came in and started to attack him with a blackjack. Billy Wicks quickly took the weapon away from the man and proceeded to beat him with his own weapon. He was a dead broke wrestler who, at times, had to sleep in his car because he had no money.
Back in the day, Billy got a challenge from Gorgeous George and when Billy Wicks called his bluff ol' George backed down. This Gulf Coast Heavy Weight champion favored the toe hold and the short arm scissors. His biggest professional rival was Sputnic Monroe. Monroe and Wicks were good friends off of the mat but when it was show time they were big time rivals.
Today, Billy Wicks is a living legend and respected direct link to the roots of American Catch Wrestling. He stays active and keeps Catch Wrestling alive by training wrestlers at his home and with Johnny Huskey and his group of dedicated and highly skilled "hookers" out of Barbell Gym in Asheville, N.C.
Source:
www.warriorpath.org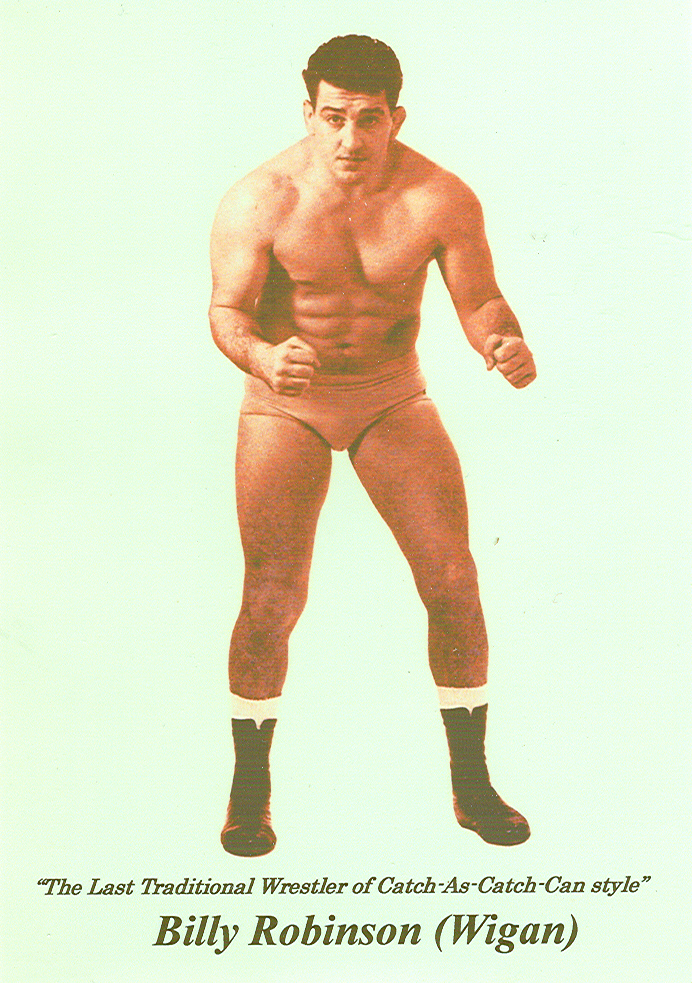 Billy Robinson
Born Sept 18th 1939
Born in England in 1939 Billy Robinson dreamed of becoming a boxer until a childhood accident damaged his eye and took away that dream. Luckily his family was full of competitive athletes and his uncle, who was an outstanding wrestler, got him into wrestling. He fell in love with it from the very first workout and the rest is history.
Billy Spent eight years under the watchful eye and expert tutelage of Legendary Coach Billy Riley at the original "Snake Pit" Gym in Wigan England and as an amateur wrestler he achieved notable success when he won the 1957 British National Wrestling Championship and the 1958 European Open Wrestling Championship in the light Heavyweight Class, defeating an Olympic Bronze medalist in the finals.
During the 1960s he firmly established himself on the British circuits as one of, if not the best of the best wrestlers around. He was the golden boy of British Heavyweight Wrestling and arguably the best wrestler that ever came out of Wigan. Of his contemporaries (the likes of Geoff Portz, Georgios Gordienko and Billy Joyce) there were few who could beat him and none who could match his technical skill. There was little doubt he would be British Heavyweight Champion before long and indeed he lived up to the expectations when he captured the Title on January 18, 1967 from Billy Joyce and would hold it for slightly over three years before he vacated the title so that he could travel to America and join the AWA.
In the AWA he established himself as one of the best wrestlers in a promotion known for hiring great wrestlers. In the AWA captured numerous Tag Team Titles and held hold the AWA British Empire Heavyweight Title three times. While with the AWA he also travelled to Japan and Canada and became a major success in those areas, winning the Stampede North American Heavyweight Title and the IWA Heavyweight Title in Japan and Australia. He also had a legendary match against Antonio Inoki that was billed as "The Match between the World's Top Two Technicians".
He made his name as a Catch Wrestling icon along with Karl Gotch by helping create the world of Mixed Martial Arts in Japan. He became a major influence in the "Shoot" style of wrestling leading and coaching the UWF Snake Pit in Japan and also trained several Mixed Martial Arts legends such as Kazushi Sakuraba, and Josh Barnett, just to name a couple.
He is still training new talent today, traveling the world working with Coach Jake Shannon at Scientific Wrestling and overseeing and working with the Head Coaches at Snake Pit U.S.A.
Note: For a more historical look into the amazing life of Billy Robinson, check out his book "Physical Chess" by Jake Shannon at www.Amazon.com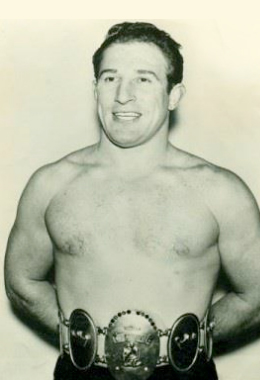 Gene LeBell
Born Oct 9, 1932
"The Godfather of Grappling"
Gene LeBell started young in the world of fighting. Gene's mother, Aileen Eaton, owned and operated the Olympic Auditorium. The Olympic was built in 1927 for the Olympic Games in 1932. It has housed some of the greatest boxers and wrestlers of all time – Muhammad Ali, Jerry Quarry, Gorgeous George, Jimmy Londos, John "The Golden Greek" Tolos, Sugar Ray Robinson, Andre the Giant, Archie Moore, Sonny Liston, Joe Frazier, Henry Armstrong, Gene Fullmer, Emile Griffith, Floyd Patterson, Lauro Salas, Ike Williams, Mando Ramos, Danny Lopez, Carlos Palomino, Jimmy Carter, Art Aragon, Sugar Ramos, Carlos Ortiz, Willy Pep, Lou Thesz, and a thousand more – and Gene was warming up the mat with them as early as age 6.
One wrestler in particular, Ed "Strangler" Lewis, started Gene off in the world of grappling. Ed explained that with grappling you could do just about anything to your opponent. You could hit the guy, do heel locks, ankle locks, armbars, back locks, neck locks, tweak the nose or choke him out.
Needless to say, when Gene entered his first out of school judo tournament at the age of 14, the officials were horrified to see Gene performing illegal grappling moves on his opponents – tossing them into the air as if they're as light as feathers, jumping on them, dropping elbows on them, and simply terrorizing his competitors. Unfortunately it was a short day for Gene, the officials ended up disqualifying him from the event stating that he used too much strength. "I don't count disqualifications as losses. If you've never been disqualified, you've never been afraid of your opponent."
Undaunted, Gene worked even harder to improve his skills, training every day in martial arts and boxing, and competing in tournaments on the weekends. Gene was gearing up for something big.
At the age of 20, Gene LeBell had 14 years of hardcore training from the best in the world, and he set his sights on the National Judo Championship in 1954 at the Kesar Pavilion in San Francisco. Gene tore through the ranks of competitors with everything he had. After the smoke cleared, Gene LeBell was the last man standing – he had won the National AAU Heavyweight Judo Championship and the USA Overall Judo Championship back to back. Skeptics called it a fluke – they said that Gene had more luck than talent, and wrote him off. Gene has often said "the harder you work, the luckier you get." He came back and took the national championships again in 1955, this time at the Olympic Auditorium where he had trained during his youth.
After taking two consecutive Judo Championships, Gene decided to try his hand at Pro Wrestling. "I had won over 200 trophies, and if I cashed them all in, they wouldn't make a single house payment." The highlight of his professional wrestling career was in Amarillo Texas when he beat Pat O'Connor (from Australia) for the world's heavyweight wrestling championship. Then, while flaunting the championship belt, Gene accidentally hit the commissioner and split open his head. Even though it was an accident, Gene was disqualified, and his belt was taken away. "At least I was the champ for 12 seconds." Unbelievably, lawsuits were actually filed against Gene, and he decided to take a trip to Hawaii while the heat died down.
On Dec 2 1963, in Salt Lake City Utah, Kenpo master Ed Parker told Gene about a boxer named Jim Beck – a man who claimed that a professional boxer could easily best any martial artist. Gene agreed to step into the ring and prove Jim wrong, but upon arrival Gene realized that they had pulled a bait-and-switch; instead of Jim Beck stepping into the ring, Gene was facing off with Milo Savage – the no 5 ranked light heavyweight boxer in the world. Unfazed, Gene held true to his end of the bargain and took his place in the ring. Milo Savage was wearing brass knuckles – not only that, Milo was greased from head to toe, making it nearly impossible to keep a hold of him. After 4 hard fought rounds, Gene choked out Savage. He stayed out for 20 minutes (for those that would like to see it, this fight is available on VHS in the Products section).
During Gene's more than 25 years of wrestling he did far more than wrestle. He was also doing stunt work for movies and television, and still is today. In his ongoing career to date, Gene has appeared in more than 1,000 movies and TV shows. Gene is considered one of the greatest martial artists of all time, in addition to being a teacher of champions. He has taught grappling to such greats as Bruce Lee, Chuck Norris, Benny "the Jet" Urquidez, Gokor Chivichyan, Bob Wall, Ed Parker Hayward Nishioka, and Bill "Superfoot" Wallace just to name a few. Gene says "It wasn't a one-way street. I learned a lot from each of these champions."
Some are suprised to discover that Gene got his pioneer spirit from his mother Aileen Eaton, former owner of the Olympic Auditorium in Los Angeles for 38 years. She was one of the only female boxing/wrestling promoter's in the history of those sports. Not only did Muhammad Ali fight for her, but so did legends such as Sugar Ray Robinson, Sonny Liston, Joe Frazier, Archie Moore, Henry Armstrong, Hene Fullmer, Emile Griffith, Floyd Patterson, Lauro SAlas, Ike Williams, Mando Ramos, Danny Lopez, Carlos Palomino, Jummy Carter, Art Aragon, Sugar Ray Ramos, Carlos Ortiz, Willy Pep and so many more. One can easily see why Gene LeBell would grow up to become the world class athlete, competitor and teacher he is.
Gene LeBell has made a tremendous contribution to the martial arts community, and though he will stoutly deny it, he is admired and appreciated by nearly all of the greatest fighters alive today.
Source:
www.genelebell.com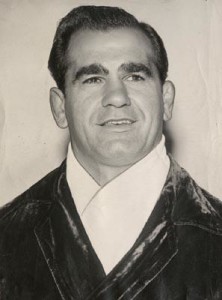 Lou Thesz
(April 24, 1916 – April 28, 2002)
One of the most recognizable competitors in the history of Pro Wrestling, and a well-accomplished amateur wrestling champion in St.Louis, Thesz entered the world of professional wrestling in 1936 after training with Ad Santel and Ed "Strangler" Lewis. Considered to have the perfect body, mind, and temperament for professional wrestling, Thesz …had an unparalleled career.
Thesz's roots in wrestling stemmed from his father, who competed in his native country of Hungary. Born in Michigan in 1916, Thesz and his family moved to St. Louis in 1919. Standing six-foot-one-inch tall and weighing 225 pounds, Thesz quickly earned his first heavyweight championship in 1936 by winning the Midwest Wrestling Association (MWA) Title in December 1937. He also briefly held the AWA Title in January of 1938. Soon after, Thesz claimed the NWA Heavyweight Title on February 23, 1939 by defeating Everett Marshal in St. Louis. He held the NWA title six times, which was a record at the time of his retirement.
Thesz was recognized as champion by the combined National Wrestling Alliance and National Wrestling Association in November of 1949. He then unified that title with the AWA Championship by defeating Gorgeous George in Chicago in July of 1950. In March of 1956, Thesz lost the belt to Whipper Billy Watson in Toronto but would soon re-capture his prize and hold the title until June of 1957.
During his career, Thesz also became an elite tag-team wrestler and, teaming with Dory "The Outlaw" Funk, won The Pacific Coast Tag Team Title in Vancouver, Canada in 1961. Two years later, Thesz would again become NWA Heavyweight Champion by defeating Buddy Rogers in Toronto, Canada on January 24, 1963.
Thesz defeated professional boxer "Jersey" Joe Wolcott in a special wrestler vs. boxer match in April of 1963. After an illustrious run in the NWA, Thesz held the Southern Heavyweight Championship in 1973. At age 73, Lou wrestled his last match in Japan on December 26, 1990 against Masahiro Chono. His career was so influential that World Wrestling Entertainment star "Stone Cold" Steve Austin adopted the "Lou Thesz Press" as one of his trademark victory maneuvers.
Thesz' autobiography "Hooker" is a compelling look into both his life and the world of professional wrestling in the twentieth century. Lou continued to look remarkably fit until his death in 2002 at age 86. A true pioneer of professional wrestling, Thesz's legacy will be difficult to duplicate in the industry.
Sources:
Professional Wrestling Hall of Fame, www.pwhf.org  by: Andrew Malnoske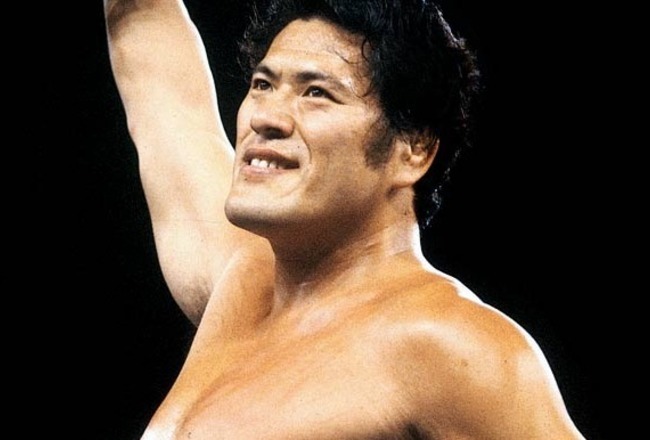 Antonio Inoki
Born: 20 February, 1943
Antonio Inoki (born Kanji Inoki) was born on February 20, 1943 in Yokohama, Japan. When he was fourteen years old, his grandfather, mother and all of his brothers journeyed to Sao Paolo, Brazil and became immigrants from Japan. He worked on coffee plantations from 5:00 A.M. to midnight every day for three years.
In April of 1960, the famous wrestler Rikidozan visited Brazil to wrestle and, through scouting, found Inoki, who accepted Rikidozan's offer to return to Japan. He was seventeen years old at that time. Inoki's first match was on September 30, 1960 with Kintaro Oki of Korea. Inoki lost but everybody saw significant potential in him.
Inoki went to the United States in March of 1964 for the first time. He went to Hawaii, Los Angeles, Kansas, Oregon, Texas, and Tennessee; He was billed as Kanji Inoki or Tokyo Tom then. Inoki's reputation grew when he wrestled Killer Karl Kox and Fritz Von Erich in the Dallas area in 1965. Inoki teamed with Duke Keomuka.
Inoki returned from Tennessee to Japan in March 1966 and he formed Tokyo Pro-Wrestling with Toyonobori, which was an outlaw promotion of Japan Wrestling Association, a member of the National Wrestling Association. Therefore, he had a tough time obtaining American wrestlers. In April of 1967, Inoki returned to JWA, but again, he had a clash with JWA executives in December 1971, so he quit again.
Inoki formed New Japan Pro-Wrestling in March 1972. Again he had tough time successfully inviting the American boys. He did, however, have great matches with Karl Gotch, Lou Thesz, who were both considered rather outlaw or freelance agents at that time. New Japan then became the number one group in Japan. Inoki had a business relationship with the National Wrestling Federation through Johnny Powers. On December 10, 1973, Inoki beat Powers to become NWF world heavyweight champion. After Inoki finished his business relationship with NWF, Inoki became International Wrestling Grand Prix champ.
Inoki was amongst the famous group of Japanese professional wrestlers who were tutored in the art of "hooking" by the professional wrestler Karl Gotch. Inoki named this method of fighting "Strong Style". This style stemmed directly from the original Catch as Catch Can that was taught to Gotch by Billy Riley at the legendary Catch Wresting gym, the Snake Pit in Wigan England.
Inoki faced many opponents from all dominant disciplines of combat from various parts of the world, such as boxers, judoka, karateka, kung fu practitioners, sumo wrestlers and wrestlers. . These bouts included a match with then-prominent karate competitor Everett Eddy. Eddy had previously competed in a mixed skills bout against boxer Horst Geisler, losing by knockout. The bout with Eddy ended with the karateka "knocked out" by a professional wrestling power bomb followed by a Hulk Hogan-esque leg drop, strongly suggesting a pre-determined outcome. Another such match pitted Inoki against 6'7″ Kyokushin karate stylist Willie "The Bear Killer" Williams. (So-called because he had allegedly fought a bear for a 1976 Japanese film entitled "The Strongest Karate 2″). This bout ended in a doctor stoppage after both competitors repeatedly fell out of the ring. Although many of these matches were worked, they are seen as a precursor to modern mixed martial arts.
His NWF championship days extended from 1973 to 1981 and are considered his prime as a wrestler. His top three greatest matches are considered to be against Strong Kobayashi, Kintaro Oki, and Billy Robinson. In 1976, Inoki offered a mixed match to Muhammad Ali. The bout ended up being a fifteen round draw and newspapers criticized Inoki a considerable amount. He continued to battle with Chuck Wepner, The Monsterman, Willie Williams, and Karl Mildenberger and then established a Mixed Martial Arts business himself. Today, many believe that the Mixed Martial Arts boom originated with the Inoki vs. Ali match.
He had his final match April 4, 1998 at the Tokyo Dome and drew seventy-thousand fans. Today, Inoki is doing consultant business with Oil Sand and Bio-Energy. His wrestling group, IGF (Inoki Genome Federation) is doing bi-monthly shows in Japan. Inoki's name is so famous in Japan that he maintains "national hero" status still.
Source:  
1.)    Professional Wrestling Hall of Fame www.pwhf.org/halloffamers by, Koji Miyamoto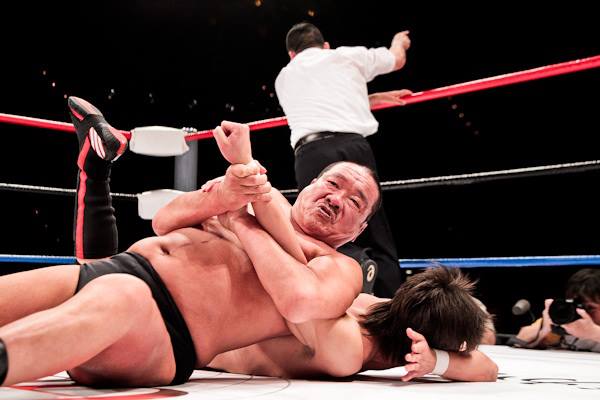 Yoshiaki Fujiwara
Born: April 27, 1949
Yoshiaki Fujiwara is long held up as Karl Gotch's best student. In fact out of all of his students, Fujiwara was the only one Karl Gotch willingly endorsed as a representative of the 'Gotch Style' of Catch Wrestling. You could say he was Gotch's only 'Black Belt', if such gradings ever existed in Catch as Catch Can.
Fujiwara was the first graduate of the New Japan Pro Wrestling dojo (Mr. Pogo was the first debutante in the promotion, but he and Gran Hamada had trained with Tatsumi Fujinami before he and Antonio Inoki left the Japanese Wrestling Association). A former Muay Thai kickboxer, Fujiwara was easily able to absorb and apply the "Strong Style" of professional wrestling taught by Inoki and Karl Gotch. His debut was November 12, 1972 and in 1975 Fujiwara went on to win the Karl Gotch Cup (a tournament for rookies). In the late 1970s, Fujiwara became embroiled in a feud with Allen Coage (a former Olympic judo bronze medal winner who had debuted as a pro wrestler in NJPW, and one of the first gaijins to be trained at the NJPW dojo) over the petty issue of who had the strongest head. Fujiwara would bang his head repeatedly against the ring's corner post's metal face to provoke Coage, and behind the scenes, Coage would advise him not to do so repeatedly, in fear of suffering permanent real-life damage.
All the while, Fujiwara remained a strong member of the undercard, but rarely would he get opportunities for big singles matches or tag teams with better-known stars. In 1984, however, all that would change when Fujiwara was among the defectors who created the Japanese UWF. When he and most of them returned in 1986, they formed their own stable, indicating they would battle major New Japan wrestlers and receive recognition on their own terms. As a member of the UWF stable, Fujiwara, along with Akira Maeda, focused on Inoki's IWGP Heavyweight Championship, pushing him to the limit in the annual IWGP tournaments. But at heart, Maeda and Fujiwara were also rivals, when unable to get the IWGP title, Maeda and Nobuhiko Takada went for and won the IWGP tag team title, Fujiwara and Kazuo Yamazaki split from the main UWF stable, and feuded with them over the title, eventually winning it. This split, also in the wake of Riki Chōshū's return to NJPW after leaving in circumstances similar to Maeda and the rest of the UWF roster, eventually weakened the UWF stable.
When Maeda was fired from New Japan for a shoot attack on Chōshū during a match in late 1987, all the other UWF stable members except for Fujiwara and Osamu Kido left NJPW to reform the UWF. Kido and Fujiwara attempted to get back into the good graces of the rest of the NJPW roster, and for a time, Fujiwara seemed to go back into the NJPW undercard, although with more respect from his peers. Inoki had already gained respect for him enough to be his tag team partner in 1986 for the annual tag team tournament (despite being affiliated with the UWF stable). In the meantime, Fujiwara trained rookies Masakatsu Funaki and Minoru Suzuki. In 1989, however, Fujiwara felt the need to continue shoot-style wrestling, also due to the rise of Chōshū in backstage politics, so he moved to the UWF with Funaki and Suzuki.
In the Newborn UWF, Fujiwara was clearly seen as the senior peer to Maeda, but eventually jobbed to him. After Newborn UWF collapsed in December 1990, Fujiwara, Funaki, Suzuki and rookie Yusuke Fuke formed Pro Wrestling Fujiwara Gumi (Gumi in Japanese means "group"), but it is used in the underworld lingo to mean organized crime family. Fujiwara styled himself kumichō, literally, the gang leader). Although it was a shoot style promotion, Fujiwara had agreements with SWS, W*ING and Universal Lucha Libre, whereupon he would send talent to compete in them (but not viceversa, in order to keep the shoot-style "feel" to his promotion). Fujiwara Gumi had a big supercard at the Tokyo Dome in 1992, involving all the great talents in the promotion: Fujiwara, Funaki, Suzuki, Fuke, Yoshiki Takahashi, Yuki Ishikawa, and others.
Problems involving the collapsing Japanese economy and the essence of Fujiwara Gumi's wrestling, however, forced its roster to assess their individual futures. Funaki, Suzuki, Fuke and Takahashi, apparently unsettled by the "performing" direction Fujiwara was taking, abandoned him in late 1993 to form Pancrase. Fujiwara already had back-up talent – Ishikawa, Daisuke Ikeda, Katsumi Usuda, Minoru Tanaka, Mamoru Okamoto, Muhammad Yone, and Shoichi Funaki. In need of funds, however, Fujiwara proposed to cooperate with their root promotion, New Japan. Fujiwara and the rest of the roster began having a small "feud" with NJPW, Fujiwara challenging the heavyweights (he challenged future partner Shinya Hashimoto for the IWGP title, but failed again), and the rest the junior heavyweight division. The NJPW-PWFG feud, however, did not have the star-studded impression on fans that the NJPW-UWFI feud later had.
In late 1995, Ishikawa and the rest of the Fujiwara Gumi roster abandoned Fujiwara and formed their own promotion, BattlARTS, citing problems with Fujiwara's management team. Since 1996, Fujiwara, the only remaining member of Fujiwara Gumi and thus a de facto free agent (as the promotion no longer operates), has competed in several promotions, mostly in legends matches. NJPW, All Japan Pro Wrestling, Pro Wrestling ZERO-ONE, WAR, and several independents have seen his presence.
Currently, Fujiwara is associated with the American catch wrestling organization Scientific Wrestling, and began working with Antonio Inoki in 2007, as a trainer and official for the Inoki Genome Federation (IGF). He is also an actor who has had a few parts in Japanese movies and dramas and is a prolific artisan potter.
Sources:
1.) Pro Wrestling Wikia www.prowrestlingwikia.com
2.) Bloody Elbow www.bloodyelbow.com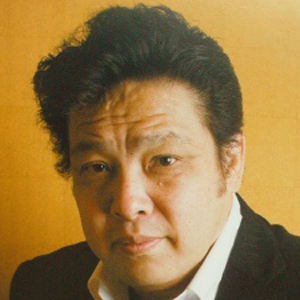 Satoru Sayama
Born: November 27, 1957
Satoru Sayama is a Japanese professional wrestler best known as the original "Tiger Mask," and founder of Shooto and Seikendo. He's wrestled under his real name as well as the names Sammy Lee, and masked Super Tiger, Tiger King, Original Tiger Mask and The Mask of Tiger. He is the only man to hold the WWF Junior Heavyweight Championship and the NWA World Junior Heavyweight Championship simultaneously.
Sayama, having been trained by Karl Gotch and Antonio Inoki made his debut in New Japan Pro Wrestling, against Shoji Kai, a jobber known to have been the debut opponent for future stars. Sayama weighed only 160 pounds at the time, which, even given his training, impaired him from getting a permanent spot on NJPW cards. So they sent him abroad, to England where he wrestled as Sammy Lee and Mexico, where he wrestled under his real name. It was in Mexico where he started to grow not only in physical stature but also in prominence, winning the NWA World Middleweight Title.
In 1981, NJPW was looking for a way to attract young fans to its wrestling. They looked to the popular Tiger Mask anime and created an actual wrestler called Tiger Mask for the fans, with the recently returned Sayama playing the role. On the evening of Thursday, April 23, 1981 Satoru Sayama made his way to the ring in the Kuramae Kokugikan as Tiger Mask.
Initially, many traditional Japanese fans scoffed at the thought of artist Ikki Kajiwara's popular comic book wrestling hero being pushed as a legitimate wrestling star, but he shocked the Japanese fans in the arena by pinning Dynamite Kid with his German Suplex. As a result, he was immediately regarded as the premier star in New Japan's Junior Heavyweight ranks. Moreover, that match would be the first of many classic battles between the two men.
On May 6, 1982, Tiger Mask was forced to vacate the WWF Junior Heavyweight title after injuring his right knee. Tiger Mask would go on to win the NWA World Junior Heavyweight less than 3 weeks later on May 25, 1982. The next day, Tiger Mask defeated Black Tiger in a match for the WWF Junior Heavyweight title. This victory was met with controversy, as some board members on the NWA declared the title vacant, as they felt that the NWA World Junior Heavyweight Championship was the premier title for the division. However, during an annual meeting between the NWA and New Japan Pro Wrestling, it was declared that Tiger Mask was still recognized as the official champion, which made him the only man to simultaneously hold the NWA World Junior Heavyweight Championship and the WWF Junior Heavyweight Championship.
Sayama made several appearances in the United States in late 1982, mostly in the World Wrestling Federation. He defended the WWF Junior title by defeating Dynamite Kid at Madison Square Garden in New York City on August 30 and Eddie Gilbert at the Spectrum in Philadelphia on November 25. The elderly ring announcer at the Spectrum introduced Sayama as "Timer Mask."
During a tag team match on April 3, 1983 he was injured by Dynamite Kid; two days later, he was forced to vacate the NWA World Junior Heavyweight title after it became clear that he would need time off to recuperate. However, once the determined Tiger Mask recovered, he regained his NWA World Junior Heavyweight Championship by defeating Kuniaki Kobayashi on June 2, 1983, making him a simultaneous NWA/WWF Jr. champion for the second time. By 1983, however, Sayama started feeling dissatisfied as he hated the politics behind-the-scenes. As a result, he announced his retirement from active competition on August 12, 1983. It was a shock to the wrestling world, as Tiger Mask was going to retire while he was at the top of his game and as the holder of two Junior Heavyweight Championships. Both titles were declared vacant, as he became a trainer to martial arts fighters.
After nearly a year of inactivity, Sayama resurfaced in the Japanese UWF in 1984. By then, All Japan Pro Wrestling had purchased the Tiger Mask name and gimmick and given it to Mitsuharu Misawa. As a result, Sayama initially made appearances for UWF as The Tiger (which was the same colors as Tiger Mask), then alternated between using his real name and the gimmick of Super Tiger (colored silver and purple). He initially supported the UWF concept and had several memorable matches against Akira Maeda and Yoshiaki Fujiwara.
Sayama would soon disagree with Maeda over style ideology, as Sayama wanted more kicking, while Maeda wanted more submission holds. This led to a shoot during a match between Sayama and Maeda in 1985, in which Maeda delivered a controversial kick to Sayama's lower abdomen. Sayama signaled that he was kicked in the groin, resulting in Maeda being disqualified. Shortly after this, Sayama left UWF, amid protests from other UWF wrestlers who disliked him for his selfish leadership. With no key opponents for Maeda, the UWF collapsed and Maeda and the rest of the roster headed back to NJPW.
Sayama left professional wrestling altogether due to his experience in the UWF, and spent the next few years criticizing it as worked. In 1986 he founded Shooto, finally realizing his dream of becoming a martial arts trainer. It was Sayama who [re-]popularized the term kayfabe, which was also the title of a book he wrote in which he exposed the pro wrestling business's secret to a Japanese audience.
In 1995, Sayama was offered to return to puroresu for a match against his old mentor Antonio Inoki. There was already a Tiger Mask on the scene (his disciple, Tiger Mask IV, who debuted with the mask), so Sayama used the name and gimmick of Tiger King, using a gold-colored outfit. He lost to Inoki, but fans still were awed of his display of athleticism and said that he had not lost a step at all.
In subsequent years, he used the Original Tiger Mask, competing sporadically in various independent promotions, often in legends matches and teams with his younger disciple. In 1998, he was invited by Inoki to be a part of the board of his new venture, Universal Fighting Organization. He did, but left a year later to form Seikendo, his own promotion.
Recently he participated in a new promotion called Real Japan Pro Wrestling and started to promote a new gimmick where he would be called Super Tiger. However, with a career spanning over 30 years in addition to being actively involved in martial arts aside from wrestling, his body had taken a great deal of abuse which resulted in Sayama becoming fodder in matches for current stars aiming to become legends.
Sayama has also recently donned his famous costume, being billed as "The Original Tiger Mask." He has appeared in Tatsumi Fujinami's DRADITION promotion, as well as Antonio Inoki's Inoki Genome Federation. Sayama is much heavier than he was in his younger days, and as a result, his style has changed; he focuses more on mat-based wrestling, though he still uses his trademark martial arts kicks. Fans, young and old, seem quite pleased just to see Sayama in any form these days.
There has been talk that Sayama has been involved establishing a Tiger Mask V. This new Tiger Mask would have his own style and have been picked by Sayama himself. Satoru Sayama was also Kazushi Sakuraba's childhood hero.
Sources:
 1.) Online World of Wrestling www.onlineworldofwrestling.com
 2.) Puroresu Central www.puroresucentral.com
 3.) Google sites: Mixed Martial Arts Rankings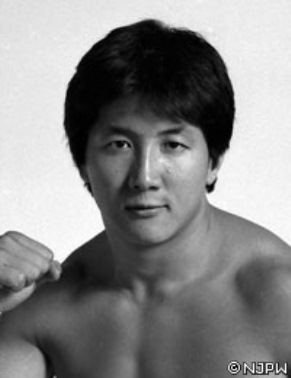 Akira Maeda
Born: 24 January, 1959
Akira Maeda, is a retired Japanese professional wrestler of Korean descent, also known as Kwik-kik-Lee for his time on the British Wrestling show World of Sport. He is best known for having helped… develop the shoot-style of professional wrestling during the late 1980s and forming the legendary Mixed Martial Arts organization "Rings."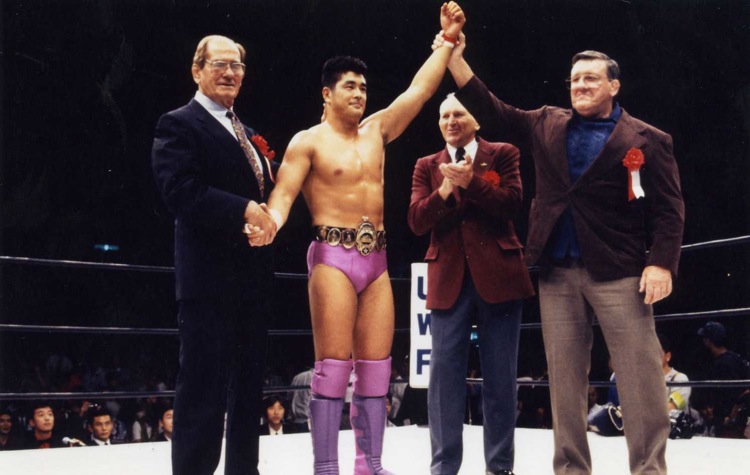 Nobuhiko Takada
Born: 12 April, 1962
Nobuhiko Takada is a Japanese mixed martial arts fighter and professional wrestler. Although he was not considered a great mixed martial arts fighter, he was instrumental in the development of the Japanese popularized shoot-style professional wrestling, as one of the biggest stars of the Universal Wrestling Federation and Union of Wrestling Force International in the '80s and '90s. He is also credited with jump starting the Japanese MMA boom and the existence of PRIDE fighting Championships thanks to his historical matches with Rickson Gracie.
Takada was trained by the legendary Karl Gotch at the New Japan Pro Wrestling (NJPW) dojo and made his professional wrestling debut in 1981 against Norio Honaga. He started his career as a Junior Heavyweight and left NJPW in 1984, along with Rusher Kimura, Akira Maeda, Ryuma Go, Mach Hayato, and Gran Hamada, to form the original Universal Wrestling Federation (UWF).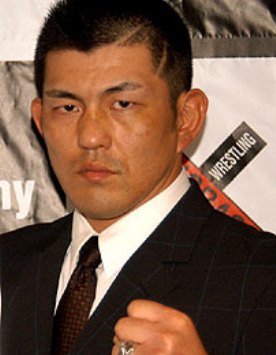 Minoru Suzuki
Born: 17 June, 1968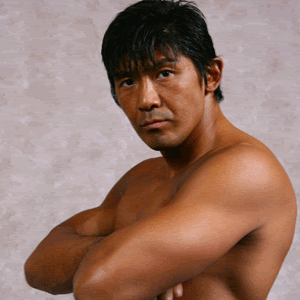 Masakatsu Funaki
Born: 13 March, 1969
Kiyoshi Tamura
Born: December 17, 1969
Ken Shamrock
 "The Worlds Most Dangerous Man"
Born: 11 February, 1964
Erik Paulson
Born:  28 June, 1966
Guy Mezger
Born: 1 Jan, 1968
Frank "The Legend" Shamrock
Born: 8 Dec, 1972
Jerry Bohlander
Born: 12 February, 1974
Sources:
Ikuhisa Minowa
"Minowaman"
Born: 12 Jan, 1976
Kazushi Sakuraba
"The Gracie Hunter"
Born: 14 July, 1969