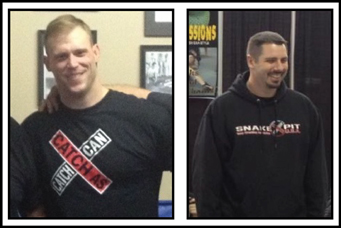 Click here to view Snake Pit U.S.A Catch Wrestling Founders and Head Coaches.
SNAKE PIT U.S.A. COACHES ASSOCIATION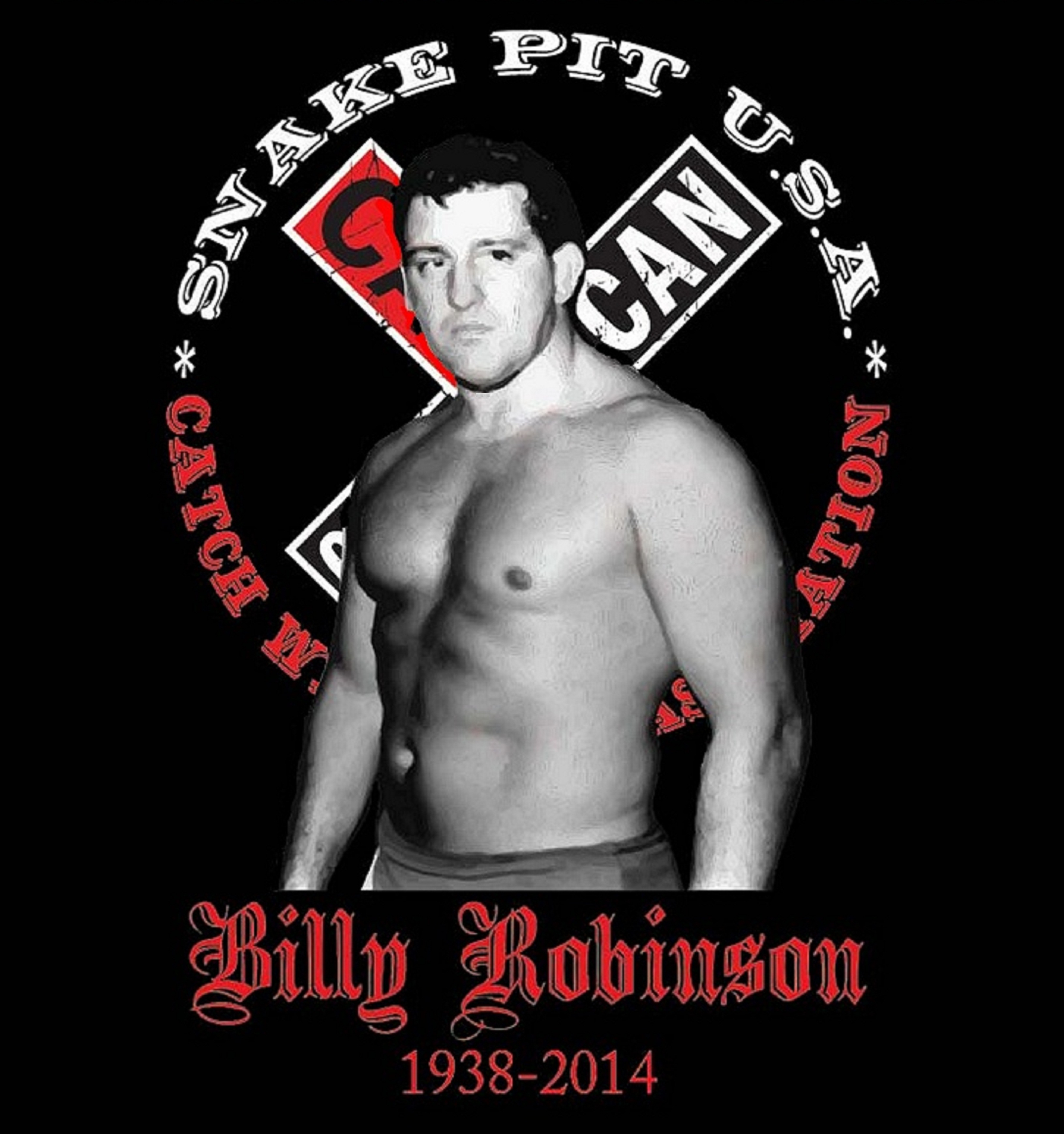 COACH BILLY ROBINSON
(Sept 18, 1938 – March 3, 2014)
Born in England in 1938 Billy Robinson dreamed of becoming a boxer until a childhood accident damaged his eye and took away that dream. Luckily his family was full of competitive athletes and his uncle who was an outstanding wrestler got him into wrestling. He fell in love with it from the very first workout and the rest is history.
Billy Spent twelve years under the watchful eye and expert tutelage of Legendary Coach Billy Riley at the original "Snake Pit" Gym in Wigan England and as an amateur wrestler he achieved notable success when he won the 1957 British National Wrestling Championship and the 1958 European Open Wrestling Championship in the light Heavyweight Class, defeating an Olympic Bronze medalist in the finals.
During the 1960s he firmly established himself on the British circuits as one of, if not the best of the best wrestlers around. He was the golden boy of British Heavyweight Wrestling and arguably the best wrestler that ever came out of Wigan. Of his contemporaries (the likes of Geoff Portz, Georgios Gordienko and Billy Joyce) there were few who could beat him and none who could match his technical skill. There was little doubt he would be British Heavyweight Champion before long and indeed he lived up to the expectations when he captured the Title on January 18, 1967 from Billy Joyce and would hold it for slightly over three years before he vacated the title so that he could travel to America and join the AWA.
In the AWA he established himself as one of the best wrestlers in a promotion known for hiring great wrestlers. In the AWA he captured numerous Tag Team Titles and held the AWA British Empire Heavyweight Title three times. While with the AWA he also travelled to Japan and Canada and became a major success in those areas, winning the Stampede North American Heavyweight Title and the IWA Heavyweight Title in Japan and Australia. He also had a legendary match against Antonio Inoki that was billed as "The Match between the World's Top Two Technicians".
He made his name as a Catch Wrestling icon along with Karl Gotch by helping create the world of Mixed Martial Arts in Japan. He became a major influence in the "Shoot" style of wrestling and started the UWF Snake Pit in Japan and also trained several Mixed Martial Arts legends such as Kazushi Sakuraba, Josh Barnett, and Megumi Fujii just to name a few. Up until his passing in March 2014 he was still training new talent, working with fellow Coach Jake Shannon at Scientific Wrestling, training fighters at the Snake Pit gym in Japan and overseeing and working with the Head Coaches at Snake Pit U.S.A.. Coach Robinson will be dearly missed as our friend and mentor.
For more Catch Wrestling history and information on outstanding Catch Wrestling products, including more information about Billy visit www.ScientificWrestling.com.
To purchase Billy Robinson's bestselling book "Physical Chess" written by Jake Shannon visit www.Amazon.com and get your copy today! This book not only provides an amazingly detailed bio on Billy's life, but unveils the real history behind Catch as Catch Can Wrestling.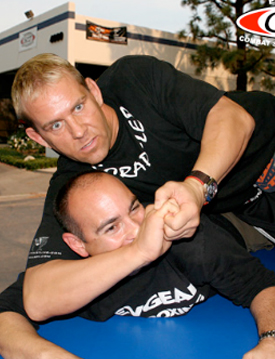 COACH ERIK PAULSON
Coach Erik Paulson grew up in Minnesota and began his training in Judo in 1974. He started training competition Tae Kwon Do in 1976. To get his hands better he joined Golden Gloves Boxing in 1978 and competed all throughout his junior and senior high years while still competing in many karate tournaments and full-contact kickboxing matches.
For over thirty years Erik Paulson has studied the art of grappling. He has gained world-wide fame competing in many pay-per-view no-holds-barred tournaments. He is undefeated in Japan where he is the World Light-Heavyweight Shoot-Wrestling Champion. Erik has not only fought, but defeated five different champions in Japan.
Coach Paulson has spent the last two decades training under the Gracie Brothers and the Machado Brothers in Brazilian Jiu-Jitsu. Erik's Combat Submission Wrestling system blends Judo, Freestyle wrestling, and Greco-Roman wrestling with techniques and submissions from Shoot-Wrestling, Brazilian Jiu-Jitsu, Sambo and Catch-as-Catch-Can Wrestling. Erik is famous for his unbelievable repertoire of submission holds and is recognized as a virtual encyclopedia of leg locks.
Erik is a Full Instructor in the art of Jeet Kune Do/Jun Fan Gung Fu and an Associate Instructor in Filipino Martial Arts under Guru Dan Inosanto, and one of the chief grappling instructors at the Inosanto Academy.
For more information on Coach Erik Paulson, CSW and CSW merchandise please visit: www.ErikPaulson.com
COACH FLOYD "BAD NEWS" WINTER
Coach Winter was the first American to win a Greco Roman Gold medal in International/World Competition in 1972 and went on to win 14 Gold Medals in the U.S. Armed Forces Championships and four more medals in the Military World Championships. He also made the 1979 U.S. World Team and World Cup Greco team and was the assistant coach on the 1984 and 1988 U.S. Olympic Wrestling Teams.
He is responsible for the development of THREE, U.S. Olympians as Head Coach of the U.S. Army's "All Army Wrestling Team" not to mention recruiting and training UFC Legend Randy "The Natural" Couture on the "All Army Team" as well.  
Coach Winter was the 1977 U.S. National Greco Roman Champion and the 1977 U.S. National Sambo Champion and USA Wrestling's 2006 U.S. Sambo Coach of the year, having led the U.S. World Sambo Team as Head Coach, to a second place finish at the World Championships in Turkey. Some of his other notable acheivements include:
–          Head Coach "All Army Wrestling Team" 8 years
–          2 X National Champion Head Coach
–          The Assistant Coach for the West Point Military Academy Wrestling Team
–          USA National Coaching Staff 25 Years
–          Coached USA Teams in numerous World, World Cup,  and International Championships  
–          High school varsity wrestling official for the past 30 yrs
Coach Winter will be assisting us in ensuring only the highest quality wrestling techniques find their way into our wrestling foundation and programs.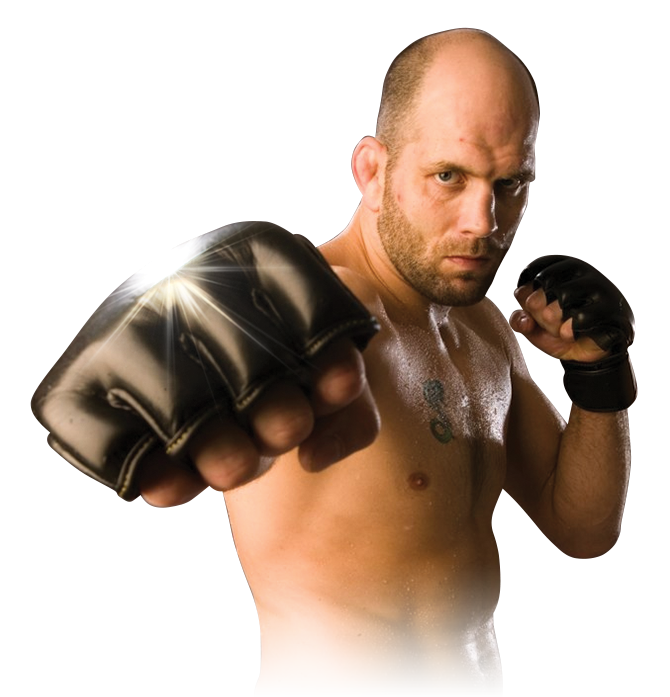 COACH MATT "THE LAW" LINDLAND
Coach Matt Lindland, one of the founders of Team Quest in Portland, Oregon, is one of the world's most renowned and respected coaches in wrestling and MMA.
Matt attended Clackamas Community College and won a NJCAA National title before matriculating to the University of Nebraska where he went 33-1 his senior year and won the Big 8 title. That same year Matt won the Free-Style National Title at the University Level.
A year after college Matt won his second National Title in Free-Style and won the Pan-Americans that same year beating Alberto Rodriguez Hernandez from Cuba. Matt had a tough decision to make, Free-Style or Greco-Roman, so he entered both styles at the US Open where he made it to the quarterfinals in Free-Style and semifinals in Greco.
Matt ultimately decided to focus on Greco-Roman and that same year he moved to Colorado Springs to train full-time at the Olympic Training Center and made the US National Greco-Roman Team. Lindland won the silver medal at the 2000 Sydney Olympics and took again took home silver at the world championships the following year.
Lindland started mixed martial arts training with Randy Couture, Dan Henderson and others at Team Quest. He won four fights in the middleweight division of the Ultimate Fighting Championship before losing to Murilo Bustamante in a championship match at UFC 37. Matt fought in three weight classes; Middleweight, Light Heavyweight and Heavyweight and still managed to compile an impressive professional MMA record of 22-9 before retiring from the sport.
Matt founded the North West kids wrestling program and coached at two of the top wrestling clubs in the U.S.; Cobra Wrestling and Peninsula. That same year, Matt also started working with future UFC star Chael Sonnen at West Linn High School. In 1996, Matt moved back to Lincoln, NE to take a job as an assistant wrestling coach at the University of Nebraska where he coached until 2000. During his tenure at Nebraska, Coach Matt coached NCAA champions and multiple All-Americans.
In 2000, Matt started coaching wrestling and MMA at his Team Quest gym in Portland. In 2013 he coached the U.S. Greco-Roman world team in Budapest, Hungary and in May of 2014 he was named USA Wrestling's National Greco-Roman Coach.
We are thrilled to have Coach Lindland as a member of the Snake Pit U.S.A. Coaches Association/Board of Directors and Team Quest, Portland Oregon as an official affiliate club of Team Snake Pit U.S.A.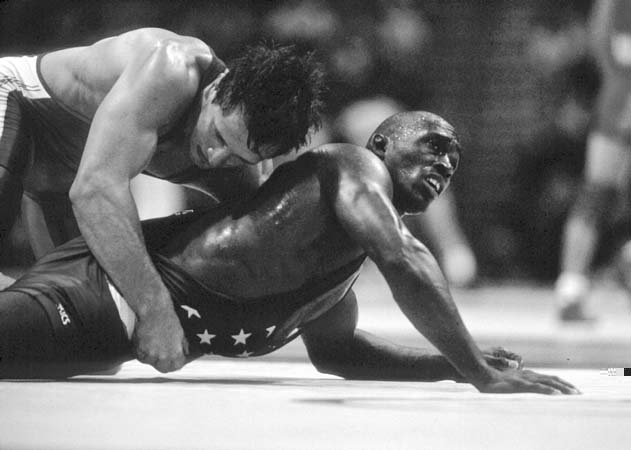 COACH DERRICK WALDROUP
The 1996 Olympic Wrestler and Four-time National Greco Roman Champion
Coach Waldroup was a three-sport athlete who left behind a fairly solid, yet far from spectacular, list of credentials when he graduated from the Midlothian school in 1980.
Although the Illinois native was a better-than-average wrestler, football player and shot putter and discus thrower for his High School track and field team, he never was crowned a state champion in any of the three sports.
Derrick went 30-0 during the regular season in wrestling as a senior, only to lose in sectionals. He then enrolled at Eastern Illinois University. Away from home for the first time in his life, he had a hard time adjusting to college life and transferred out after a short period. He then enrolled at Triton Junior College, and that's where his fortunes began to turn.
Determined to get the most out of his wrestling abilities and armed with a newfound fire and encouragement from former Triton coach Art Craft, Waldroup dominated the junior college circuit, eventually winning the 1985 National Junior College Athletic Association championship at 190 pounds.
After Triton, Waldroup joined the U.S. Army and continued to dominate over time, twice being named Army Athlete of the Year, winning a silver medal at the 1991 Pan American Games and being crowned a World Military Games champion.
After a few unsuccessful attempts at making the U.S. Olympic wrestling squads in 1988 and '92, Coach Waldroup, then a 33-year-old staff sergeant, finally made the cut for the 1996 Games in Atlanta. Derrick went on to win four matches in Atlanta at 198 pounds, finishing seventh overall. Coach Waldroup is a an absolutely amazing coach and an even better mentor and leader whom we are very proud to have as a member of the Snake Pit U.S.A. Coaches Association.
Career Highlights
International:
Eighth in 1995 Concord Cup
Fourth in 1995 Granma Cup (Cuba)
Fourth in 1994 World Cup
Third in 1994 Spring Cup (Israel)
Fifth in 1994 Petrov Cup (Bulgaria)
Fourth in 1993 Concord Cup
Third in 1992 Andre Guerin Tournament (France)
Third in 1991 World Cup
Third in 1991 Trophe Milone Tournament (Italy)
Second in 1990-91 World Military Games
1988 World Military Games champion
1987 U.S. World Cup team member
1986-87 U.S. World team member
Second in 1987 Pan American Games
Second in 1987 & 1990 Concord Cup
1986 & 1989 Concord Cup champion
U.S.:
Third in 1989 and 1996 U.S. Nationals
Third in 1995 World Team Trials
Second in 1995 U.S. Nationals
1994 Winter Classic champion
Second in 1990-91 & 1993-94 World Team Trials
Four-time U.S. Nationals champion (1986-87, 90, 94)
Second in 1991 and 1993 U.S. Nationals
Seventh in 1992 U.S. Nationals
Second in 1989 U.S. Olympic Festival
Sixth in 1988 Olympic Team Trials
Fourth in 1988 Final Olympic Qualifier
1987 U.S. Olympic Festival champion
Owns 15 Armed Forces titles, eight in Greco-Roman (1986-88 & 1990-95) and six in freestyle (1987 & 1990-94)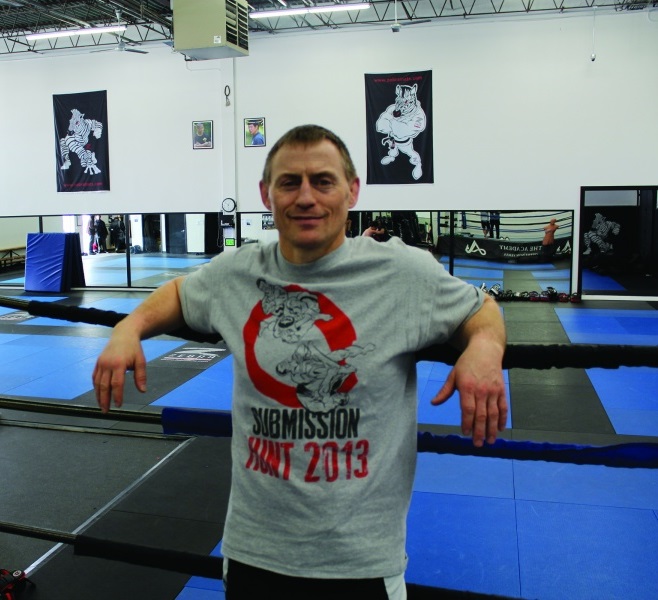 COACH GREG NELSON
Academy Head Coach Greg Nelson has his roots in athletic training and competition.  Mr. Nelson is a former University of Minnesota Wrestling Team member and an All-American high school gymnast.  In 1983 he started training in the Jun Fan Martial Arts, Filipino Kali and Muay Thai under Sifu Rick Faye.  Since then he has earned Full Instructor credentials in Jun Fan Martial Arts/Jeet Kune Do Concepts, Filipino Kali, and Level III Instructor in Maphilindo Silat under the legendary Guru Dan Inosanto.  Mr. Nelson is also a Senior Instructor in Muay Thai under Grand Master Surachai "Chai" Sirisute of the Thai Boxing Association of the USA. A grappler at heart, Nelson earned the level of Advanced Student in Shoot Wrestling under Sensei Yurinaga Nakamura, and a certified Full Instructor in Combat Submission Wrestling (CSW) under Erik Paulson.  Greg started his Brazilian Jiu Jitsu journey in 1989 taking a private under Master Rickson Gracie. In 1996 he became formal a student of 8th degree Red & Black Belt Professor Pedro Sauer.  Professor Sauer awarded Mr. Nelson as his first Black Belt in November 2002. Currently, he is a 3rd degree Black Belt and is the highest-ranking Brazilian Jiu Jitsu black belt in the state of Minnesota
Coach Nelson is well known as one of the best Mixed Martial Arts coaches in the sport & is in high demand worldwide for seminars and specialized workshops. He spends much of his time researching and developing techniques and training methods to build The Academy fight teams. As a coach, he has developed numerous world champions in both MMA and Muay Thai, Mr. Nelson and the Academy team have produced numerous other international, national, & state championship competitors and medal winners in professional and amateur Muay Thai & sport Brazilian Jiu Jitsu/ submission grappling. The Academy fighters hold victories in all of the major fight organizations worldwide; including the UFC, WEC, Pride Bushido, EliteXC, Strikeforce, SengokuWVR, BodogFIGHT, Shooto, King of the Cage, Super Brawl, Hook-N-Shoot, Prince's Cup Thailand, Sanshou Championships in Beijing China, All-Osaka Shoot Boxing Championships in Osaka, Japan and many more. Mr. Nelson and the Academy Team have produced three UFC Champions at 3 different weight classes. These include Dave Menne, the 1st Middleweight UFC World Champion, Sean Sherk Lightweight the 2nd UFC World Champion, and Brock Lesnar Heavyweight UFC World Champion. He holds the rare distinction in the MMA world of training them from the beginning of their fight careers to their title fights.
Greg Nelson combined his background in wrestling, from college; with the Thai-boxing training he began in 1983 to form the basis of MMA. Starting the company in 1992 his school also incorporated Shoot-Wrestling and Submission Fighting to form the basis of its mixed martial arts training. As MMA grew it attracted athletes such as Brock Lesnar and Sean Sherk.
For more information on Coach Nelson, his gym or merchandise please visit: www.TheAcademyMN.com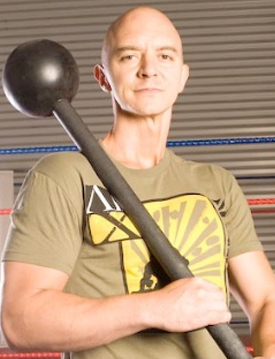 COACH JAKE SHANNON
Coach Shannon is the author of Catch Wrestling best sellers "Say Uncle", and "Physical Chess". He is also the founder of Scientific Wrestling.com, inventor of the Macebell, and a master hypnotist. He holds a B.A. in English from the University of Colorado, Boulder, and a M.Sc. in financial engineering from Golden Gate University in San Francisco.
Jake has been a key leader in the Catch Wrestling Revolution. He has helped spread the word with his outstanding and very informative website www.ScientificWrestling.com, and by traveling with Coach Billy Robinson and training and educating people in Catch Wrestling all over the world.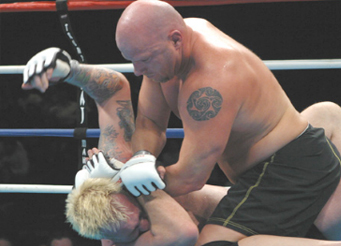 COACH PATRICK STANO
Coach Stano brings 25 years of Wrestling and Martial Arts experience to the team as a former AAU Freestyle Wrestling National Champion and six-time Brazilian Jiu-jitsu World Champion. Recognized as an exceptional international grappler, he did not give up a single point in more than 20 matches over a three year span competing in Brazil.
Black Belt Brazilian Jiu-jitsu under Carlos Catania
Captain of College Wrestling Team
Began competing in Submission Wrestling and Brazilian Jiu-Jitsu in 1998
Promoted to Blue belt in 1999 by Royce Gracie
Promoted to Purple Belt in 2002 by Saulo Riberio and Steve Maxwell
Received a Black belt in Thai Jitsu from Joe Priole in 2004
Began fighting professional Mixed Martial Arts matches in 2000
MMA career includes fights with UFC legend and Hall of Fame member, Dan "The Beast" Severn and former UFC Heavyweight Title contender, Jeff "The Snowman" Monson
TITLES:
2014 Catch as Catch Can Wrestling, World Heavyweight Champion
Former AAU Freestyle Wrestling National Champion
Two-time Michigan, All State wrestler
Div. II Wrestling National Qualifier
2000 Pan-Am Jiu-Jitsu Champion: Masters Blue-belt Heavyweight
2000 Rickson Gracie Jiu Jitsu Tournament, World Champion
2001 Jiu-Jitsu World Champion-Masters: Super-heavyweight Blue-belt
2001 Jiu-Jitsu World Champion-Masters: Blue-belt Absolute Division
2002 Jiu-Jitsu World Champion-Masters: Super heavyweight, Purple-belt div.
2003 Jiu-Jitsu World Champion-Masters: Super heavyweight, Purple-belt div.
2003 Jiu-Jitsu World Champion-Masters: Absolute Div., Purple-belt div.
3rd place HW in the 2009 Abu Dhabi N. American Qualifying Tournament
Eight time Grapplers Quest Submission Grappling Champion
Six time NAGA Submission Grappling Champion
Winner of several other tournament championships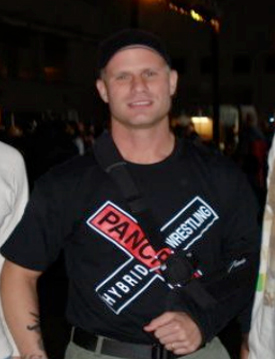 COACH SEAN DAUGHERTY
Coach Daugherty "Doc" has over 20 years of Martial arts training and experience. Having been a multiple state kickboxing champion as a teenager and original member of Ken Shamrock's famed Lion's Den he brings a ton of knowledge and versatility to the team. He is also the understudy of Coach John Saylor who is a former U.S. Olympic Judo Head Coach and 3-time National Heavyweight Judo Champion who is also regarded as an expert in Catch Wrestling, Sambo, and Dutch Kickboxing. Coach Daugherty is widely regarded as an innovator and legitimate genius when it comes to MMA/Submission Grappling movement, footwork, transitions and scrambling techniques.
1990 – Age 14 began Martial Arts in Moo Duk Kwan and Kickboxing and exposure to various other styles.
1990-1993 – 15-0 record in Kickboxing, winning state championships in Indiana, West Virginia, Pennsylvania and Ohio
1992 – Achieved Blackbelt ranking in Moo Duk Kwan.
1994 – Competed in UFC II at 18 years of age; Big John McCarthy's first fight as a referee
1994 – Lived and trained with Ken Shamrock, becoming a member of the original Lion's Den.  Trained as a Shoot Fighter and Catch As Catch Can Wrestler.
1997 – Began training under John Saylor (Former U.S. Olympic Judo Head Coach and 3-time National Heavyweight Judo Champion) in Shin Gi Tai Jujitsu, Judo, Sambo, Catch Wrestling and Dutch Kickboxing.
2000 – Placed second at the first ever Arnold Classic Submission Grappling Tournament
2000 – Competed in Pancrase 2000 Trans Tour against Catch Wrestling legend/Founder of Pancrase, Minoru Suzuki
2004 – 2006 – Opened first International Shin Gi Tai Jujitsu Dojo in Okinawa Japan.
2005 – 2006 – Hand to Hand Combat instructor to Special Operation Forces: USAF Pararescue/Combat Controllers and U.S. Army Green Berets while stationed in Okinawa.
2007 – 2009 – Hand to Hand Combat instructor to Army Combative Instructors while stationed at Joint Base McGuire, Dix, Lakehurst.
2009 – Present – Achieved 4th Dan Shin Gi Tai Jujitsu as a Ronin instructor for various MMA training camps and Head instructor at "The Barn of Truth" Dojo in Ohio.  Sean also holds a Black Belt in Kodokan Judo under Coach John Saylor (former U.S. Olympic Training Center Head Coach and 3 time National Heavyweight Judo Champion) & is now proudly serving as one of the leaders of the Snake Pit U.S.A. Catch Wrestling Association, Coaches Association.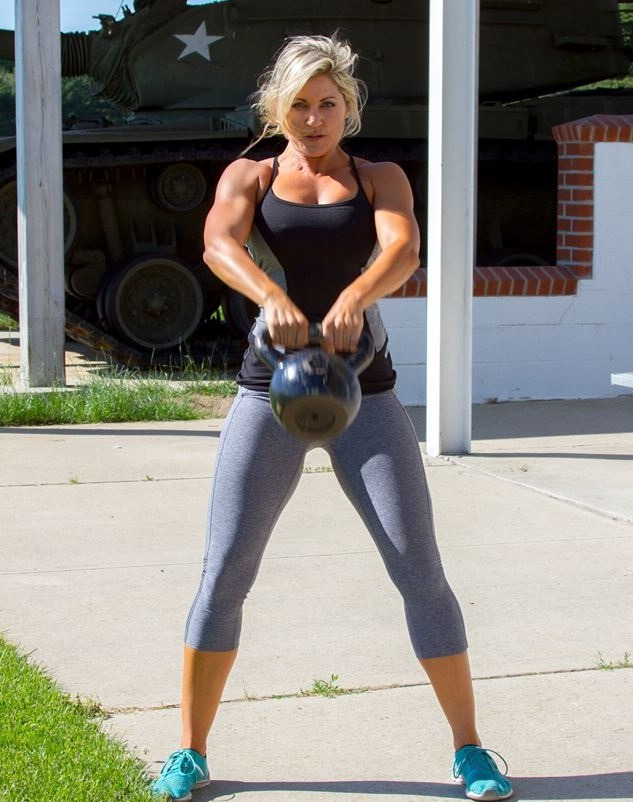 COACH STEPHANIE KEENAN
Coach Stephanie Keenan is the founder of the SKFitLife Challenge and www.stephaniekeenan.com. She has spent the past 5 years of her fitness journey as a figure & bikini competitor, fitness model, and competitive fitness coach. She has not only transformed her physical life from "chasing skinny" to living and loving a truly FitLife, but she is an adventurous entrepreneur who went from serving as a nuclear engineer in the US Navy to working as a cubicle-dwelling office worker to living the life of her dreams where her new "uniform of the day" is flip flops and linen pants while in Costa Rica.
From engineer to competitive fitness coach to online wellness expert and lifestyle designer, she is passionate about fitness, living a healthy life, and dreaming big.
Stephanie is a world renowned Nutrition and Fitness expert and coach that has trained 1,000's of athletes including Combat Sports athletes. Every year she helps thousands of people achieve life altering nutritional and fitness goals.
COMPETITION HISTORY
2011 WBFF World Championships Fitness Model, Top 5; Bikini Model, Top 10
2011 Fitness America Pageant, New England, Bikini & Figure, 4th
2010 WBFF World Championships Figure, 3rd
2010 Fitness Universe Pageant, Miami, Bikini & Figure, Top 10
2008 Fitness America Pageant, New York, Bikini & Figure, Top 10
2008 Fitness Universe Pageant, Miami, Bikini & Figure, Top 10
2008 Fitness America Pageant, Atlantic, Bikini, 3rd Place